China's Economic Growth Remains Intact as Party Leaders Meet
Bloomberg News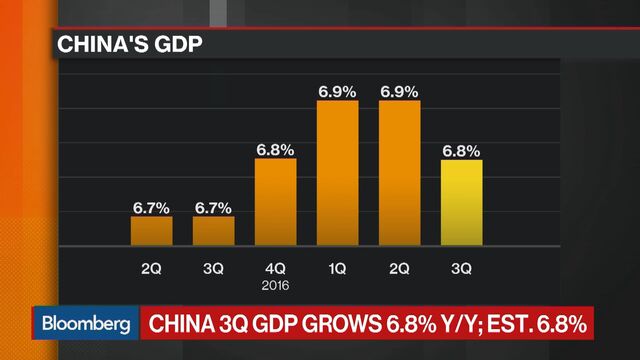 Robust factory output and consumer spending kept China's economy humming in the third quarter, giving President Xi Jinping a firm footing to rein in excess capacity, curb pollution and shift to a more sustainable growth path.
Key Points
Gross domestic product rose 6.8% in third quarter from year earlier, matching estimate in Bloomberg survey, after 6.9% growth in first half
Retail sales jumped 10.3% in September from a year earlier
Industrial production rose 6.6% last month
Fixed-asset investment climbed 7.5% in first nine months of this year




Big Picture
Enduring economic growth is a welcome tailwind for Communist Party leaders gathering in Beijing this week to map policy for the next five years, with Xi telling delegates that China is transitioning from a rapid growth model to one more focused on high-quality development. The durability of the expansion will be tested after the conclave as leaders press on with their plans to tackle swelling debt, cut excess capacity and clean up pollution.
Read More: Xi skips old growth pledge as China seeks quality not quantity
China will continue with its plan to deleverage and cut capacity, Xi said during his speech at the twice-a-decade Communist Party Congress in Beijing, adding that the country will continue opening its doors to foreign businesses, defend against systemic risks, strengthen financial sector regulation, and better coordinate fiscal and monetary policy. Economists in recent months have raised estimates for full-year growth, projecting a 6.7 percent expansion that would match last year's pace, the slowest in a quarter century.
Economist Takeaways
"The growth outcome this year should offer a window for President Xi to push reforms," said Raymond Yeung, chief Greater China economist at Australia & New Zealand Banking Group Ltd. in Hong Kong. "A set of good numbers mirrors a slew of challenges, notably credit growth."
"It's more like a stable growth picture rather than a slowdown," Cui Li, head of macro research at CCB International Holdings Ltd. in Hong Kong, said in a Bloomberg Television interview. "Manufacturing is still under pressure. There are other areas in the economy that are still doing quite well. We still have quite a strong service sector, infrastructure is doing well. These areas are offsetting the weakness in the industrial sector."
"Consumption is the stabilizing factor of the economy, and industrial output actually quickened in September, which was also reflected in the PMI reading," said Grace Ng, an economist at JPMorgan Chase & Co. in Hong Kong. "Growth in the fourth quarter could moderate a bit mainly due to possible slower investment, but in general this year is quite stable. And the emphasis on quality, efficiency and sustainability in President Xi Jinping's party congress speech also would benefit China's development in the long run."
"External demand this year is quite solid, which supports growth, and consumption also is robust," said Wen Bin, a researcher at China Minsheng Banking Corp. in Beijing. "Investment slipped a bit, due to the campaigns to clean up overcapacity and environment, but in general China's economy is showing good momentum."
"We project a further cooling of growth through 2018 amid less accommodative monetary policy," Louis Kuijs, head of Asia economics at Oxford Economics in Hong Kong, wrote in a note. "We expect global demand to ease further in the coming six months, amid cooling import growth in Asia, which should more than offset the improvement in demand growth from the U.S. and Europe."
Bloomberg Intelligence
"China's economy moves into the final months of the year with growth remarkably robust," Bloomberg Intelligence economists Tom Orlik and Fielding Chen, wrote in a report. Even so, "the market's focus on tighter policy and slower credit expansion as the main channel for reducing financial risks is likely off base. Given a reluctance to sacrifice GDP growth, the emphasis is more likely to be on write-offs of bad loans."
The Details
Consumption, which includes some government spending, contributed 64.5 percent to GDP growth in the first nine months
The economy expanded 1.7 percent from the prior quarter, matching forecasts
Quarter-on-quarter growth for the first three months was revised to 1.4 percent from 1.3 percent, and revised to 1.8 percent from 1.7 percent for the second quarter
10.97 million new jobs were created in the first nine months, putting the labor market on pace to meet the government's full-year job growth target of 11 million early, a spokesman for the statistics bureau said at a briefing in Beijing
Bloomberg Intelligence's monthly GDP tracker rose to 7.19 percent in September
Growth of private fixed-asset investment slowed to 6 percent in the first nine months from a year earlier, the slowest pace this year
— With assistance by Xiaoqing Pi, Kevin Hamlin, Miao Han, Yinan Zhao, and Ailing Tan
Before it's here, it's on the Bloomberg Terminal.
LEARN MORE