Business
Catalonia's Other Showdown: A Corporate Tussle Over Toll Roads
Italian and Spanish tycoons are battling over Spain's biggest highway operator.
By and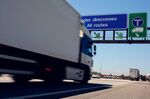 As Catalonia's showdown with Madrid heats up, another kind of fight is brewing in the would-be breakaway province: a takeover battle between Spanish and Italian corporate titans. Spanish construction giant ACS on Oct. 18 unveiled a 19 billion euro ($22 billion) offer for Abertis Infraestructuras SA, a Barcelona-based toll road operator that had been mulling a 16.8 billion euro takeover by Atlantia SpA, a highway and airport operator based in Rome.
The tussle pits ACS boss Florentino Perez, owner of the Real Madrid soccer team, against Italy's Benetton family, Atlantia's biggest shareholder, with a 30 percent stake. Abertis and Atlantia tried to merge a decade ago but the deal fell prey to political opposition in Italy. Now, with a show of muscle coming from the Spanish side, "there is without a doubt a political dimension in play," said Gregoire Thibault, an analyst at Natixis in Paris.
Perez has long sought to portray himself as empire-builder, creating Spain's largest builder by merging ACS and Grupo Dragados SL in 2003. In 2010, he added Hochtief AG, Germany's No. 1 construction firm, to the portfolio despite bitter resistance from the German company's management. At the same time, he has assembled one of the globe's most storied soccer squads by spending lavishly to woo superstars like Cristiano Ronaldo, Gareth Bale or coach Zinedine Zidane. 

While the political leadership in Madrid hasn't officially weighed in on the deal, ACS "is seen to have the backing of the Spanish government," giving it an edge over Atlantia, said Mehdi Boudokhane, an analyst at Raymond James in Paris. 
The Abertis board has asked Atlantia to increase its offer of 16.50 euros per share, but Boudokhane says that if the Italians went very far above the ACS bid of 18.76 euros he would have to reduce the valuation he attributes to the company. The shares of all three companies had fallen slightly as of 2 pm.
A tie-up between Atlantia and Abertis would create a group with highway and airport operations worldwide. Abertis is Spain's biggest toll-road operator, with concessions for 1,500 kilometers of highways there, as well as another 7,000 km in more than a dozen other countries. Atlantia has 5,000 km of toll roads in Italy and four other countries and runs Rome's two big airports.
Madrid-based ACS, by contrast, is a construction company. Its bid for Abertis is being made via Hochtief, and the plan would be to delist Abertis, with shares of a combined company traded in Frankfurt. A tieup with Hochtief would mirror the business model of French rival Vinci SA, which builds infrastructure and then takes over operations under a concession.
Atlantia remains convinced of the economic sense of its bid, Chief Executive Officer Giovanni Castellucci told the newspaper Sole 24 Ore. The company has won support from some Abertis shareholders and has lined up financing to boost its offer if needed, people familiar with the matter have said.
While Abertis has said it plans to shift its legal domicile from Barcelona to Madrid, the political crisis poses challenges for both bidders as the perception of growing risk in Spain could increase the cost of financing. ACS, though, says it has arranged 15 billion euros in loans at a favorable rate to back its bid. Atlantia has received support from Abertis shareholders such as TCI Fund Management Ltd and Spanish billionaire Juan-Miguel Villar Mir, and has lined up financing to boost its offer if needed, according to people familiar with the matter.
Even as he pursues what would be this year's biggest M&A deal, Perez has other things on his mind, including the potential impact of Catalonian independence on the Spanish soccer league—particularly the status of the Barcelona team that's the archrival of his Real Madrid. "I am not considering Spain without Catalonia nor La Liga without Barcelona," he told the news website El Espanol. "I trust the government and the parties that back the constitution to solve the problem."
Before it's here, it's on the Bloomberg Terminal.
LEARN MORE