Balance of Power: Will-He-or-Won't-He Has Indonesia on Edge
By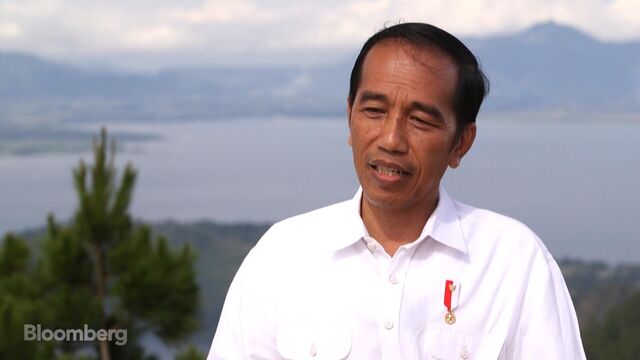 The world's most populous Muslim nation and its third-largest democracy soon kicks off a lengthy and potentially divisive campaign for president. But there's a question as to whether the man most likely to win will even run.
Indonesian President "Jokowi" is popular and being urged by four parties to contest the vote in April 2019. Even so, he was noncommittal about his plans in an interview with Bloomberg.
Jokowi is the first president of Southeast Asia's largest economy to come from outside the political elite. He's presided over Indonesia's return to investment grade, cut red tape and built roads and airports to connect his country of 17,000 islands. Despite pressure to protect local businesses, Jokowi says he's courting foreign investment.
Jokowi wouldn't be a shoo-in. He could be vulnerable to fresh questions about his loyalty to Islam, having recently banned a hard-line Islamic group. And he's struggled to cut living costs and create jobs.
For some at least, the biggest risk is that he doesn't run at all. That could open the way for someone like Suharto-era general Prabowo Subianto, who has a strong protectionist streak and could turn Indonesia inward.

Dear readers, watch out for a special Japanese elections edition of Balance of Power on Sunday. Also please send today's newsletter to any interested friends so they can sign up, and follow Bloomberg Politics on Twitter and Facebook for more.
Global Headlines
Spain into the unknown | Prime Minister Mariano Rajoy started the process of taking direct control of Catalonia after the regional government stuck to its claims for independence. Activating Article 155 of the Constitution for the first time ever could mean deploying Spanish police on the streets of Barcelona, a risky move after the recent violence, or ousting the regional leaders. The Catalans warned they may move to a unilateral declaration of independence.
Shutdown showdown | The year's most divisive congressional fights are set to converge in December, setting the stage for a potential U.S. government shutdown. Battles over a border wall, health-care subsidies, Planned Parenthood and storm relief are hanging over talks on legislation to fund the government after Dec. 8. Even without contentious issues, completing a trillion-dollar spending bill in time would be a tall order.
Russia frets about the U.S., too | As U.S. lawmakers press their efforts to prevent a repeat of Russian election meddling, it's U.S. President Donald Trump's foreign policy that's worrying Moscow, Marc Champion reports. There was deep concern at a Kremlin-sponsored gathering of Russia-watchers in Sochi this week that the role of an unpredictable, militarily adventurous superpower – played by Russia since 2014 – may be passing to the U.S.
Life without Nafta |  Economists say that a collapse of the 23-year-old trade accord would damage — but likely not derail — North America's economy and global corporations' business models. Bloomberg Intelligence and Moody's Analytics predict Mexico would be hardest hit by the resulting higher tariffs, which could hurt growth, cost jobs and spur inflation for all three nations.
Historic change in New Zealand | Jacinda Ardern, 37, is set to become the first Labour prime minister in nine years after sealing a coalition deal with a minor populist party. The ouster of Bill English's administration, whose National Party won the most votes last month, sent the kiwi tumbling on concern the new government's policies, such as a potential cut in immigration, may curb economic growth.
And finally...  Zimbabwean President Robert Mugabe's wife and possible successor, Grace, is no stranger to controversy. A month after she was charged with assaulting a South African model partying with her sons comes the news she's suing a former diamond dealer over the failure to supply a $1.35 million, 100-carat ring for her 20th wedding anniversary. When she asked for a refund, only $120,000 was returned, according to court documents. In a country facing economic collapse, the case is likely to enhance her reputation for extravagant living that's prompted many Zimbabweans to dub her "Gucci Grace."

— With assistance by Kathleen Hunter, and Chris Fournier
Before it's here, it's on the Bloomberg Terminal.
LEARN MORE