Australian Jobless Rate Unexpectedly Drops on East-Coast Hiring
By
Economy added 19,800 jobs in September, beating forecasts

More than 300,000 full-time roles added in past year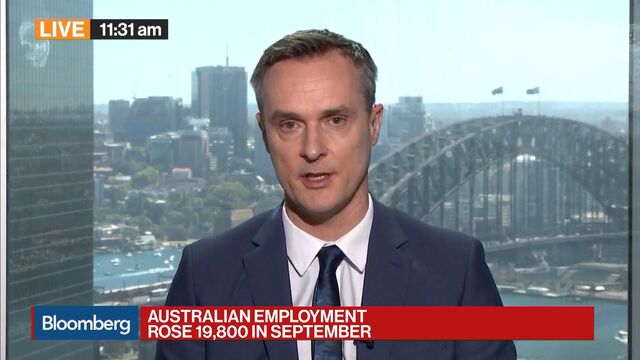 Australian unemployment unexpectedly dropped in September after a burst of hiring in the two most populous states.
Key Details
Employment rose 19,800 from August; economists forecast 15,000 gain
Jobless rate fell to 5.5%; estimate 5.6%
Full-time jobs rose by 6,100; part-time employment climbed 13,700
Participation rate was unchanged from a revised 65.2%
Aussie dollar bought 78.62 U.S. cents at 12:45 p.m. in Sydney from 78.48 cents before report
Big Picture
The labor market has been an economic bright spot this year as full-time jobs roared back and under-employment, while still high, eased slightly in the three months through August. The central bank has kept its benchmark interest rate at a record-low 1.5 percent for more than a year to steer growth toward services industries and away from mining. While recent improving data for business investment suggests it's working, debt-laden households struggling with stagnant wages remain a cloud over consumption prospects.

Economist Takeaways
"The larger-than-expected rise in employment in September marks the seventh consecutive month of strong job growth in Australia and leaves little doubt on the current health of the labor market," said Kate Hickie at Capital Economics Ltd. "That said, we don't think this will prompt a notable pick-up in wage growth anytime soon as spare capacity remains elevated."
"The RBA will be heartened by ongoing continuation of decent job gains, which is supportive of their forecast that unemployment will grind very gradually lower over time," said Ben Jarman at JPMorgan Chase & Co. "But we are wary of the fact that the economy is not on a clean cyclical adjustment path –- there are substantial drags coming from the unwind of the housing cycle and structural impulse to slower credit growth."
Other Details
---

---
Jobless rate matches May's four-year low
Most jobs were added in New South Wales and Victoria, which added 21,100 and 8,900 roles respectively, according to Australian Bureau of Statistics
Since Sept. 2016, full-time employment has increased by 315,900; part-time has increased by 55,600: ABS
Traders see a 57 percent chance of an interest rate increase in August 2018, climbing to 86 percent in November; both meetings in those months come straight after inflation reports


Before it's here, it's on the Bloomberg Terminal.
LEARN MORE