Xi's Grand Vision for China Prioritizes Party Power Over Reform
Bloomberg News
Speech has few clues on whether Xi will back painful changes

Xi confident in supremacy of one-party development model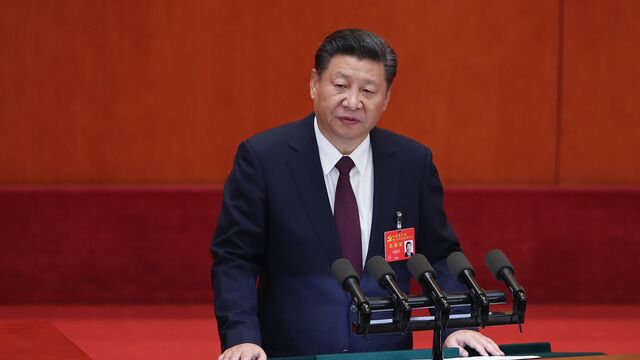 President Xi Jinping laid out a sweeping vision to transform China into a strong global power while guaranteeing Communist Party rule for decades. Those looking for details on major economic reforms didn't find much.
In a speech to party cadres that went on for more than three hours, Xi on Wednesday outlined a three-decade road map to entrench China's great power status. By 2050, Xi said the country would be a global leader in innovation, influence and military might.
"Our country is approaching the center of the world stage and making continuous contributions to humankind," Xi told almost 2,300 delegates gathered for the party's twice-a-decade congress in Beijing. "The Chinese nation is standing tall and firm in the East of the World."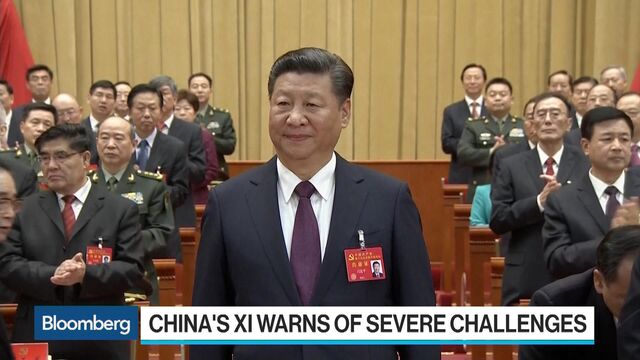 Xi's vision to expand party control over all aspects of the nation revealed a greater certainty in the supremacy of China's one-party system as political upheaval draws Western democracies inward and growth tilts toward Asia. Still, it provided no strong clue over whether Xi would embark on painful structural reforms in the next five years that analysts say are necessary to foster sustainable growth in the world's second-biggest economy.
The stakes are high for Xi to strike the right balance, both at home and abroad. As one of the top global growth drivers, China's ability to prevent an abrupt slowdown is crucial to maintaining the stability of the world economy. Any failure to deliver prosperity would also undermine the Communist Party's legitimacy among China's 1.4 billion people.

"Xi is now openly confident that China has its own development model, which is not capitalistic and not to be linked to democratisation," said Steve Tsang, director of SOAS China Institute at the University of London. "The implication is that if the Party gets it right, China will develop well. But if the Party should get it wrong, then God -- or, shall one say, Marx -- help China."
Xi's team took steps to ensure against any financial-market disruptions in the run-up to the congress, with the stock market seeing its lowest volatility in 25 years. A last-hour surge by some of China's biggest companies kept the nation's benchmark stock index in the green on Wednesday, while the yuan was little changed.
Much of Xi's plan focused largely on fortifying the party, which he said "leads everything." His remarks on reform -- pledging to open up to foreign businesses, deepening state-run enterprise reform, strengthening financial sector regulation -- hewed closely to language that has underwhelmed investors looking for a more decisive structural overhaul.

Notably, Xi didn't explicitly state growth targets into the next decade, a sign that China may start focusing more on the quality of economic expansion. He also characterized the principal challenge facing the country as improving the overall quality of life of China's citizens.
"The report sent few new signals on either near-term cyclical policy or longer term structural policy," Goldman Sachs Group Inc. economists including Yu Song wrote in a note.
Xi presented China's one-party system as a "new choice" for developing countries. He touted signature policies such as his Belt-and-Road Initiative, in which China is seeking to sponsor trade and infrastructure investments across much of the globe.
"Xi Jinping's speech as expected was big on rhetoric and vision," said George Magnus, an associate at Oxford University's China Centre and former adviser at UBS Group AG. "But we shall see in due course the messy nitty gritty of policy implementation, and the political/party sand in the gears of a modern state that is moving further away from the reform ethos that lifted China in the past."
Xi, who already was seen as China's most powerful leader in a generation, was expected to emerge from the week-long congress even stronger. The event gives him a chance to remake about half the party's top leadership ranks, including potentially naming a successor or laying the groundwork to retain influence after his second term ends in 2022.
Mao, Deng, Xi
The road map presented by Xi stretched far beyond that milestone to the middle of the century, after the People's Republic of China celebrates its 100th anniversary. He laid markers along the way: Build a moderately prosperous society by 2020. Join the most innovative countries by 2035. Achieve a first-class military by 2050.
Xi cast his tenure as a "new era" in China's rejuvenation, elevating himself alongside lionized predecessors such as Mao Zedong and Deng Xiaoping. But his plan also assumes the Communist Party can manage host of vexing issues, from an aging population and the demands of a growing middle class to soaring debt and the administration of U.S. President Donald Trump.
"There's a very good chance that Xi's tenure may very much be defined by events external to China and to some extent outside of his control," said Trey McArver, co-founder of research firm Trivium China, listing internal challenges that could also morph into a crisis. "Something like a faster than expected deceleration in economic growth that leads to economic dislocation among workers could all of a sudden overwhelm the agenda."
— With assistance by Ting Shi, Keith Zhai, Peter Martin, and Enda Curran
Before it's here, it's on the Bloomberg Terminal.
LEARN MORE