Trudeau Weeps And Mourns Death of 'Tragically Hip' Singer Gord Downie
By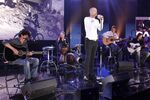 Prime Minister Justin Trudeau choked back tears in Canada's Parliament building after the death of the front-man for one of the country's most iconic bands, The Tragically Hip.
Gord Downie, who had been fighting brain cancer, died Tuesday night. Trudeau attended a performance of the Hip's final tour last year, and wept Wednesday morning before heading into a meeting of his lawmakers in Ottawa. "I thought I was going to make it through this, but I'm not, it hurts," Trudeau said.
In a separate written statement, he paid tribute to Downie as the "frontman of one of Canada's most iconic bands, a rock star, artist, and poet whose evocative lyrics came to define a country."
Before it's here, it's on the Bloomberg Terminal.
LEARN MORE