Thousands Rally With Somalia's President to Mourn Bomb Victims
By
More than 300 killed in Mogadishu terrorist attack on Oct. 14

Mother of seven vows to sell her property for money to flee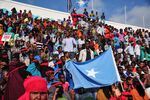 Thousands of Somalis crammed into Conis Stadium in the capital Mogadishu on Wednesday to join the nation's president, prime minister and the city's mayor in condemning Saturday's bombing there, which killed more than 300 people.
The attack, Somalia's deadliest in recent memory, has shattered both the city's transformation and serenity, leaving some residents doubtful that life in Somalia will improve much in the near future.
"I decided to relocate my children to a safer place than Mogadishu," said Fadum Hassan, a mother of seven, who attended the rally. "I do not have the funds to relocate them, but will sell my land and move from here."
Amid tight security, demonstrators -- mostly young men and women -- poured into the stadium.
Mayor Thabit Mohamed, referring to the terrorist organization al Shabaab, told the crowd that "Shabaab's days are numbered."
"We will deal with them heavy-handedly," he said.
Prime Minister Hassan Ali Kheyre said Saturday's attack has united Somalis "wherever they are and every region they are from."
"We learned something from that horrendous attack," Ali Kheyre said. "Al Shabaab showed us that they have no empathy and mercy for us," adding, "We will definitely defeat al Shabaab."
President Mohamed Abdullahi Mohamed, who wrapped up the rally, told the audience they were there to show solidarity with the victims of one of the worst terrorist attacks anywhere in the world in recent years.
"Those who were lost in the attack will live within our hearts, and we will never forget," he said.
Before it's here, it's on the Bloomberg Terminal.
LEARN MORE