Japan Premium Could Return, and Critics Blame Kuroda's BOJ
By
Fiscal targets relaxed as BOJ keeps borrowing costs down

Any sovereign downgrade could hit banks' dollar-funding costs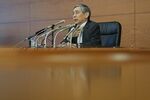 Japan's bond vigilantes -- rarely a forceful bunch -- were locked up years ago by the Bank of Japan. And without them around to focus the government on fiscal discipline, a new risk is looming for the country's financial industry.
By holding benchmark bond yields near zero percent, the BOJ has effectively limited the government's borrowing costs. That's removed what could otherwise have been an incentive for public officials to eliminate Japan's fiscal deficit: the potential for interest costs to crowd out other spending. The latest sign of slippage: Prime Minister Shinzo Abe's ruling party this month dropped a long-held 2020 target for curbing the gap.
At some point, the failure to reduce Japan's debt burden could see sovereign-rating downgrades that reverberate for the country's lenders. Where that could leave them vulnerable is their reliance on overseas counterparties for a $1 trillion shortfall in funding for foreign loans -- a "potentially volatile" source of financing, according to the IMF.
"There is a frightening risk for Japanese," says Izuru Kato, president of Totan Research Co. in Tokyo. The scenario: "banks that are currently tapping dollars in full scramble for funding as the cost spikes up" thanks to a credit-rating cut, says Kato, a critic of Governor Haruhiko Kuroda's mega stimulus who's known for his colorful weekly research notes.

Kato places blame for these risks on the BOJ, which since Kuroda took the helm in 2013 has pursued a massive expansion in government bond purchases, with the central bank now holding about 40 percent of the market.
"By setting yields at extremely unnatural levels, the BOJ clearly is also held responsible for the lack of a sense of crisis when it's crucial for Japan to fix fiscal consolidation," said Kato, whose research notes feature sidebar observations on unusual cuisine.
Vigilantes Gone
One potential example of that lack of discipline came when Abe announced plans to use part of revenue expected from a planned 2019 sales tax increase for spending on education and child-care -- rather than for deficit reduction. Bond yields showed no evidence of a reaction, thanks to the BOJ fixing 10-year yields around zero percent, affecting rates across the curve.
Japan's biggest banks have been expanding overseas to complement subdued growth at home. Without large deposit bases in dollars, however, funding for some of those loans has to come from wholesale money markets. The Bank for International Settlements earlier this year estimated a $1 trillion funding shortfall.
Japanese banks "have continued to pivot aggressively toward international markets -- maintaining their reliance on potentially volatile wholesale foreign currency funding -- accompanied by a general expansion of corporate loans and foreign securities investments," the International Monetary Fund said in a report this month.
Japan Premium
Any increase in funding costs for Japanese banks stemming from domestic debt concerns would be a reprise of the "Japan premium" of the late 1990s, when the country's lenders were charged extra to raise capital overseas. In that case, it was due to bad domestic loans.
"There isn't any imminent sign, but it's a serious concern if a rating downgrade comes at a time when dollar funding costs are in a seasonal uptrend, given the huge short-term dollar funding volume by Japanese," Kato said.
Japanese banks -- and others -- typically face an increase in borrowing costs for dollars in the final months of the year, making that potentially a riskier time to cope with any rating downgrade. The premium that dollar-based investors can get through three-month cross-currency basis swaps reached the highest since January last week, at 52 basis points; it was at 46.38 on Thursday. Last November, the premium hit 90.75 basis points, the highest in Bloomberg data dating to 2011.
Kato says that the BOJ should use the window of a synchronous global expansion to tweak its policy in 2018, by making its 2 percent inflation target explicitly a medium-term goal and raising the 10-year yield guidance to around 0.3 or 0.5 percent. That would also allow it to move more in tandem with peers in the U.S. and Europe that are moving toward policy normalization.
"It would be ideal to raise yields to levels that send a clear warning on fiscal discipline," Kato said. "It's very difficult, but at least the BOJ should take a step in that direction."
Before it's here, it's on the Bloomberg Terminal.
LEARN MORE