Spain Says Catalonia's Leader May Be Ousted If Madrid Intervenes
By and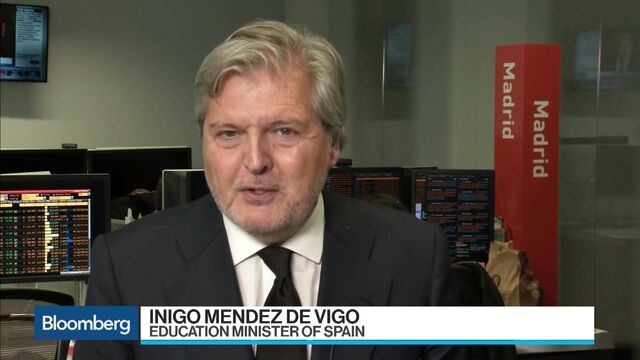 Inigo Mendez de Vigo, the Spanish government's chief spokesman, said officials in Madrid will decide whether to oust the Catalan president on the basis of his actions over the next 24 hours.
Spain has given Catalonia's Carles Puigdemont until 10 a.m. on Thursday to renounce his claims to independence or see the central government step in to take control of the rebel region. Asked in a Bloomberg Television interview Wednesday if Puigdemont and his police chief, Josep Lluis Trapero, would keep their jobs in that scenario, Mendez de Vigo said: "It depends on the answer of Mr. Puigdemont."
"The important thing is to restore the rule of law for all Catalans and not only those Catalans who want to be independent," Mendez de Vigo added.
Prime Minister Mariano Rajoy has been inching toward invoking Article 155 of the Spanish Constitution -- the so-called nuclear option that allows him to take direct control of a region administration to defend the national interest -- ever since Puigdemont declared victory in an illegal referendum on independence held Oct. 1. After a police crackdown on the makeshift ballot led to violent scenes that earned him criticism around the world, Rajoy has been trying to persuade the Catalan leaders to back down to avoid another confrontation.
"We're not going to budge," Catalan Government Spokesman Jordi Turull said at news conference in Barcelona on Tuesday. "From Thursday we'll see which scenario the Spanish government is opting for, whether it'll continue with repression or sit down to talk."
Before it's here, it's on the Bloomberg Terminal.
LEARN MORE