Slovak Ex-Ministers Sentenced in Landmark Anti-Corruption Case
By
Verdict marks first jail sentence against top-rank politicians

Slovakia among most corrupt eastern EU nations: Transparency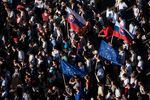 A special Slovak court sent two former government ministers to prison for corruption, the first-ever jail sentence handed to a top-level politician in this eastern European Union member state.
Former Construction and Development Ministers Marian Janusek and Igor Stefanov were handed 12- and nine-year sentences, respectively, for facilitating a 120 million-euro ($141 million) tender in 2007, Katarina Kudjakova, spokeswoman for the court in Pezinok, said by phone on Wednesday.
The court said the tender was non-transparent and designed to suit a company close to the officials, who were both members of the Slovak National Party. Charges against three lower-ranking ministry officials involved in the transaction were dismissed. All verdicts can be appealed.
Slovakia ranks 54th in the world in Transparency International's corruption-perception index, the fifth-worst among the EU's eastern members after Croatia, Hungary, Romania and Bulgaria. While third-time Prime Minister Robert Fico has set the fight against corruption as a priority, the case against his ex-ministers is the first such high-level conviction. The party was part of a Fico-lead coalition in 2006-2010 and has been back in the government since last year.
While the ex-communist country has made headway in catching up with its richer western peers in terms of living standards, a sense of frustration is mounting over the way the government rules. Public discontent with what citizens view as widespread corruption has helped fuel the rise of anti-establishment parties and led to protests in streets of Bratislava, the Slovak capital, this year.
Before it's here, it's on the Bloomberg Terminal.
LEARN MORE