Senate Democrats May Force Vote on State Tax Break This Week
By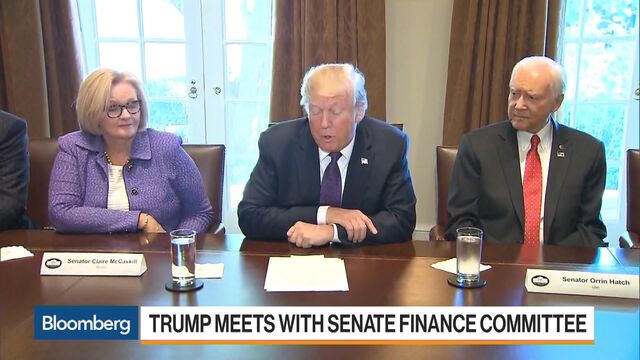 Senate Democrats are likely to force a floor vote this week on whether a tax bill could repeal the state and local tax deduction, a divisive piece of the tax framework that President Donald Trump and GOP leaders have proposed.
Roughly two dozen Republican House members are seeking ways to preserve the tax break at least in part -- and the White House has signaled it's open to a change. The deduction, which allows federal income-tax filers to write off the cost of their state and local tax bills, benefits people in high-tax states that largely vote Democratic, like New York and California. But dozens of Republican House members represent districts in high-tax states that reported above-average use of the deduction.
The issue isn't as touchy for the GOP in the Senate; Republican senators generally represent lower-tax states. Still, a budget amendment proposed by Senate Democrats Maria Cantwell of Washington and Chris Van Hollen of Maryland might make a little mischief for their Republican counterparts. It would prevent "any tax bill that raises taxes on middle-class families by eliminating or limiting the state and local tax deduction."
Repealing the so-called SALT deduction is estimated to raise $1.3 trillion over 10 years. For that reason, it's key to helping offset the steep tax-rate cuts for businesses and individuals that are called for in the GOP tax framework. Imposing an income cap on the deduction, which some GOP House members envision as a way to protect middle-income taxpayers, would sharply reduce that revenue.
Before it's here, it's on the Bloomberg Terminal.
LEARN MORE