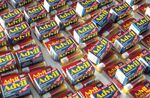 Everyone has been talking about Reckitt Benckiser Plc having a problem. Now the consumer group's CEO Rakesh Kapoor is saying the same thing. The group is saddled with a terrible dilemma.
The challenge is growth. Third-quarter sales fell 1 percent to 3.2 billion pounds ($4.2 billion) on a like-for-like basis, with the growth guidance for 2017 cut from 2 percent to zero. A host of one-off issues were to blame, not least June's Petya cyberattack. But even on an underlying basis, previously fast-growing Reckitt admits its sales are expanding no more quickly than its markets, at about 2 percent. That, Kapoor says, is unacceptable.
The central issue seems to be that Reckitt has just got too big to run. The latest leap forward in size -- and scope -- was the $18 billion acquisition of U.S. infant nutrition company Mead Johnson in June, which takes Reckitt into baby formula.

Management says the Reckitt "DNA" has become "stretched". As a result, the incremental sales that would let it beat its markets are being taken by smaller, nimbler rivals.
It's hard to avoid the impression that DNA-stretch was also a factor in the severity of the cyberattack's impact. Reckitt's systems were vulnerable. Worse, the management's initial assessment of the damage was insufficiently pessimistic. The organisation has yet to fully recover even now. 
Kapoor's response is a management rejig. Reckitt is to be divided into a consumer health business, including Mead Johnson, and a hygiene and home unit responsible for brands like Cillit Bang. 
The re-organisation makes sense but will add cost with the creation of new dedicated management teams and structures for each division. The structure will take time to implement and longer to deliver results. After that, it will be for Reckitt to demonstrate there are synergies from having the two businesses in a single company, or else pursue a demerger.
The usual response to a lack of growth would be to buy it, and Reckitt is traditionally acquisitive. There's an obvious target: The consumer health unit that U.S. pharma group Pfizer Inc. has just put on review. This is the big prize in the sector and Kapoor surely covets it more than he's letting on. There would be an auction. Assume a $17 billion purchase price  and RB would need an 8.6 billion-pound rights issue to afford it if leverage were to be kept inside 4 times Ebitda, according to analysts at Barclays.
On paper, it's possible. The snag is it's hard to see how management could cope with yet another big deal. Reckitt's people have enough on their plate. If it bought the Pfizer business, some 30 percent of sales would be from acquisitions, according to Jefferies research.
Reckitt is between a rock and a hard place. Ideally it would get its house in order before doing more M&A. But the Pfizer opportunity would be costly to miss. Reckitt may yet be able to do both, given any deal would take some time to complete. Still, shareholders are going to take some convincing to back a cash call to make it happen.
Before it's here, it's on the Bloomberg Terminal.
LEARN MORE