pursuits
Netflix to Be Tracked by Nielsen, Aiding Studios' Fee Talks
By and
Netflix to Be Tracked by Nielsen, Aiding Studios' Fee Talks
By and
The service will monitor subscription video-on-demand viewers

A&E, Disney-ABC, Lions Gate and NBCUniversal have signed up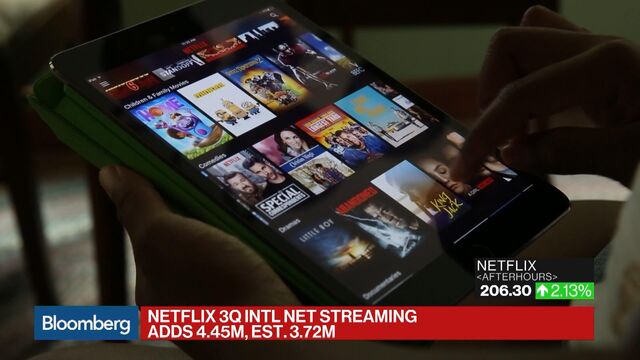 Netflix Inc.'s viewer data is about to get a lot more public. The Nielsen TV tracking service plans to start providing clients like Walt Disney Co. with detailed audience data on video streaming services -- starting with Netflix.
Eight major TV networks and production studios, including A&E Networks, Disney-ABC, Lions Gate, NBCUniversal and Warner Bros., have signed up for Nielsen Subscription Video On Demand Content Ratings, the company said Wednesday. The service will provide detailed data on the size and composition of various programs' audiences.
The viewer data, long protected by Netflix, will give studios, producers and agents tools to aid them in negotiations with the streaming company, which plans to spend as much as $8 billion next year on movies and TV shows. The Los Gatos, California-based online video company said Wednesday the Nielsen data are flawed.
"The data that Nielsen is reporting is not accurate, not even close, and does not reflect the viewing of these shows on Netflix," the company said in an email.
The streaming ratings, for instance, don't include international viewers, now more than half of Netflix's customer base, or viewing on mobile devices.
Nielsen began measuring streaming content in 2014 via an opt-in service. The new service adds more granular data, so that subscription video-on-demand audiences become as transparent as TV-watching audiences.
The company said in an email that it's "confident in the data produced by our proprietary technology and service," adding the information will "finally shine a light on what was, to this point, an industry blind spot."
(
Updates with Nielsen comment in last paragraph.
)