Nafta Nations Are Likely to Adopt Non-Binding Currency Pledge
By and
Side deal would disavow devaluations for competitive purposes

Deal won't be in main text so not legally binding, sources say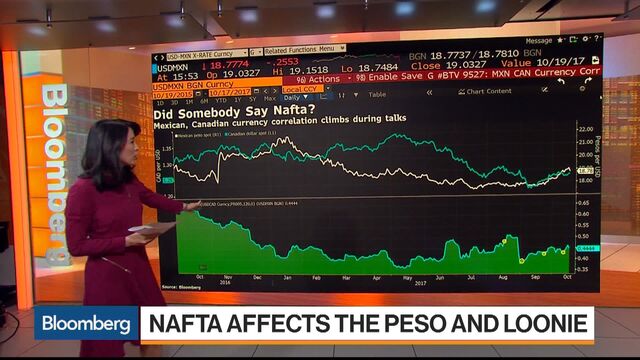 Nafta negotiators are working on a side deal for the U.S., Canada and Mexico to make a non-binding pledge to avoid devaluing their currencies for competitive purposes, according to three people familiar with the matter.
The U.S. wants to send a signal to the rest of the world that it opposes currency manipulation and prefers countries to move toward market-based exchange rates, said the people, who spoke on the condition of anonymity because the talks aren't public. The U.S. Trade Representative's office didn't immediately respond to a request for comment.
The currency pledge won't be brought into the main Nafta agreement, according to the people. As a result, the side deal won't be as legally enforceable as the principal accord, which must be ratified by legislators in all three countries.
Negotiators plan to make the deal non-binding to recognize the countries have floating currencies, and that their central banks rarely intervene in markets, the people said. Officials want to avoid tying the hands of their central banks when setting monetary policy, they said.
The consensus on exchange rates contrasts with the increasingly tense tone of the Nafta talks. Negotiators extended discussions into next year amid an impasse over U.S. proposals that Mexico and Canada see as hardline.
The looser treatment of foreign-exchange issues may frustrate those who have called for tougher language on currencies in trade deals, including U.S. automakers and some American lawmakers.
Strong Commitment
U.S. senators, including Republican Rob Portman and Democrat Sherrod Brown, pushed for a strong commitment to avoid currency manipulation in the 12-nation Trans-Pacific Partnership, a trade deal that President Donald Trump withdrew from before lawmakers approved it.
TPP countries agreed to a joint declaration that commits them to avoid unfair currency practices and refrain from competitive devaluation. The nations promised to make public their interventions in foreign-exchange markets, report foreign-reserve data, and consult regularly. Portman and other lawmakers said that provision, which wasn't part of the main TPP text, didn't go far enough.
During the presidential campaign, Trump promised to label China a currency manipulator. Since taking office, he has refrained from doing so, and the Treasury Department's most recent semi-annual currency report on trading partners took a softer tone toward China's policies.
Mexico's peso has been weakening since last month amid uncertainty whether the three countries will reach a new deal. Mexican officials don't see the peso's volatility as a problem that needs to be addressed in the body of a revised Nafta, according to one of the people.
Before it's here, it's on the Bloomberg Terminal.
LEARN MORE