New Zealand's PM Isn't Sure If He Has Backing to Form Government
By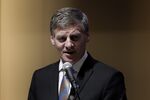 New Zealand Prime Minister Bill English says it's unclear whether Winston Peters, who holds the balance of power after the country's inconclusive election, will back his National Party to form government.
Both the ruling National and main opposition Labour parties have been in talks with Peters' New Zealand First, trying to win his backing after neither major party won a majority at the Sept. 23 election. Peters has signaled he will announce his decision later Thursday.
"Like everybody else, we look forward to hearing what that is," English told reporters in Wellington. "I'm satisfied that the agreements we've reached with New Zealand First would be able to form the basis of a strong and cohesive government."
English's National, which is seeking a rare fourth consecutive term, won 56 of the 120 seats in parliament. The opposition bloc of Labour and its ally the Greens controls 54 seats. New Zealand First has nine seats.
Both National and Labour have been in talks with Peters the past 12 days since official election results were confirmed on Oct. 7.
Before it's here, it's on the Bloomberg Terminal.
LEARN MORE