An Investor's Guide to the Czech Elections
By and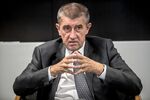 With opinion polls showing billionaire Andrej Babis as the most likely winner of the Czech parliamentary elections this weekend, investors are looking at which of the country's stocks may benefit or lose.
The presence of Babis's ANO party in the next administration -- surveys suggest it may be impossible to form a government without it -- may be good news for banks and most other companies because he opposes higher corporate taxes sought by his main rival, the Social Democrats. One notable loser could be power utility CEZ AS, whose shares have underperformed its peers since Babis proposed to expand the country's nuclear energy capacity without the help of foreign investors.
"Our central scenario is that ANO will lead the next government in a coalition,
probably with two smaller parties," Wood & Co. analysts Leo Wang, Raffaella Tenconi and Marta Jezewska-Wasilewska said in a report. "A perceived business-friendly government, together with a robust growth backdrop, should be favorable for stocks and may also help to tighten government bond yields."
Here is how individual companies could be affected by the outcome of the Oct. 20-21 ballot:
CEZ AS
With six Soviet-era atomic reactors and an aging fleet of coal-fired plants, CEZ must soon decide on whether to build new nuclear units. While the Social Democrat-led government has balked at providing the financial guarantees that would render such a massive project profitable, Babis said the utility is in good-enough shape to finance at least one nuclear unit on its own.
Political risk has prevented the government-controlled electricity maker from gaining value on the back of surging power and coal prices like its European peers, according to Tomas Sykora, an analyst at Patria Finance AS in Prague who advises investors to sell CEZ.

Banks
Social-Democrat Premier Bohuslav Sobotka has repeatedly attacked Czech lenders, one of the most profitable and best capitalized in Europe, for sending too much of their profits to their foreign owners. Shares in Komercni Banka AS and Moneta Money Bank AS fell temporarily on Feb. 14 after Sobotka proposed a progressive tax on bank assets of up to 0.3 percent. While the Social Democrats could enter the government again, they are unlikely to have enough weight to push through bank levies when they failed to do so as a senior member of the outgoing cabinet.
O2 Czech Republic AS
Both Sobotka and Babis have criticized telecommunications companies for charging too much for mobile data. Their ruling coalition this year adopted legislation designed to boost competition in the industry, strengthen the rights of consumers and allow the regulator to impose higher fines on operators.
Broader Impact
Politics have had a limited effect on the Czech economy and financial markets since the ex-communist nation joined the European Union more than 13 years ago because its election system produces multi-party governments and thus prevents radical policy U-turns. The country now boasts the lowest unemployment in the 28-member bloc and the koruna has been the best performer in the past two decades among major currencies worldwide, along with the Swiss franc.

The PX Index of 13 companies has gained 14 percent this year, outpacing an 8.4 percent advance for the Stoxx Europe 600 Index, but trailing rallies of 22 percent for the Hungarian benchmark and 29 percent in Poland.
While ANO has been ahead in opinion polls, even the most optimistic surveys for Babis indicate he will probably need a ruling partner, with as many as eight parties possibly crossing the 5 percent threshold to enter parliament.
It's not clear that ANO will be able to form a coalition government, which opens room for "broader negotiations" about various ruling option, Milan Vanicek, an analyst at J&T Banka AS, said in a note. "Most scenarios will probably lead to a result that shouldn't have a more significant impact on the companies traded on the Prague Stock Exchange, for instance via industry taxes or tighter regulation."
— With assistance by Konrad Krasuski
Before it's here, it's on the Bloomberg Terminal.
LEARN MORE