Hear No Evil, See No Evil Is the Mantra for Emerging Stocks
By
Return of rally drives bears to cut $700 million of shorts

JPMorgan Asset Management, UBS favor equities over bonds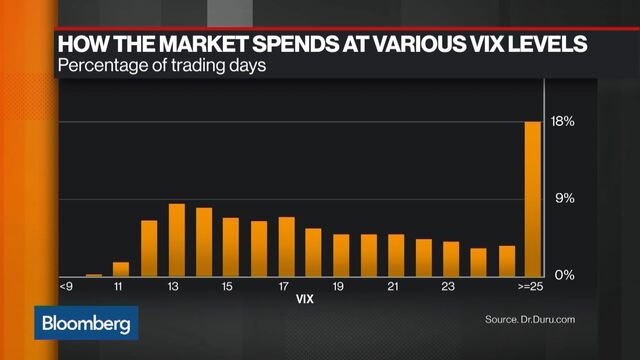 Don't be fooled by a little slump. That's the message emerging-market stocks sent investors when they rebounded from the first monthly loss of the year.
Markets from Brazil to Turkey are aiming again for all-time highs after ending the longest winning streak in more than decade. Calls from JPMorgan Asset Management to UBS Group AG favoring emerging-market equities have helped spur the rally, which caused bears to quash more than $700 million of short positions in just two days.
Developing-market stocks are up more than 30 percent this year, headed for the best annual showing in eight years. Nothing outside a major global shock appears able to shake investors. They have shrugged off concerns about high share prices, rising borrowing costs in developed countries and lingering political turmoil to choose more risk for higher returns amid expectations of stronger growth and corporate earnings.

"It is quite reasonable to see a correction," said Brian Wolahan, a senior portfolio manager at Acadian Asset Management Inc. in Boston, who helps oversee $86 billion. "I would be worried to see uninterrupted positive returns month after month. That would probably make me more nervous than the occasional correction." He remains bullish because emerging-market stocks are still trading at a high discount to developed markets compared with historical levels.
He isn't alone. UBS remains long emerging-market equities versus dollar corporate bonds, with overweight positions in China, Russia, Indonesia, Thailand and Turkey. Despite Turkey's recent diplomatic row with the U.S., earnings revisions remain strong, said Lucy Qiu, an emerging markets strategist at UBS in New York.
The growth gap between emerging and developed markets is expected to widen in the next couple of years, according to a Bloomberg survey. Emerging-market gross domestic product will probably expand to 5 percent by 2019 from 4.5 percent this year, while expansion in developed economies is expected to slow to 1.9 percent from 2.2 percent during the same period.
That divergence makes emerging-markets stocks more attractive, according to Gabriela Santos, a global market strategist at JPMorgan Asset Management. She said it's reinforced by expectations of double-digit earnings growth and stable currencies. The firm prefers developing-country equities, while they see dollar-denominated bonds as expensive and the most vulnerable to higher rates in the U.S.
"Global investors are still underweight EM equities, while already overweight EM bonds, which should provide additional flows into EM equities as risk appetite remains strong," said Santos. The firm favors stocks in South Korea, Taiwan, Russia and Brazil.
The MSCI emerging markets index was little changed as of 11:36 a.m. in New York.

Still, this year's rally has created pockets of overvalued stocks, according to Erik Zipf, a portfolio manager at DuPont Capital Management. He said prices in the Chinese Internet and overall consumer staples sectors are stretched and better value can be found in Brazil, South Africa and banks in Eastern Europe.
The outlook for emerging markets is positive because the majority of countries have good or improving fundamentals, said Jan Dehn, head of research at Ashmore Group Plc. Investor positioning in developing-nation stocks is still light, he said.
"Investors need to buy EM assets before they can sell them, right?," Dehn said.
— With assistance by Carlos Torres
Before it's here, it's on the Bloomberg Terminal.
LEARN MORE