Key Republican Says There's a Chance for a Bipartisan Tax Bill
By and
Senate's Thune cites 'Kumbaya meeting' as Trump woos Democrats

Mnuchin says it's 'hard not to give tax cuts to the wealthy'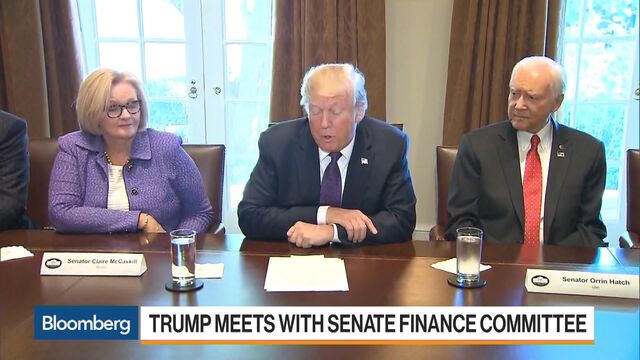 Senate Finance Chairman Orrin Hatch emerged from a bipartisan meeting with President Donald Trump saying there's a chance that a bipartisan tax bill could emerge from his committee.
"It was a very Kumbaya meeting," said Senator John Thune, the chamber's third-ranking GOP leader and a member of the tax-writing finance panel. The president told Democrats he wants to "figure out something that will attract their votes," he said.
But the finance panel's top Democrat, Ron Wyden of Oregon, said he and others made clear to Trump that there's "a Grand Canyon-sized gap" between the GOP tax framework and Democrats' goal of helping middle-income taxpayers.
Thus far, Republicans have had difficulty fashioning a partisan bill -- let alone a bipartisan one. Disagreement has emerged, for example, over a plan to eliminate the state and local tax deduction, which would hurt taxpayers in high-tax states.
Nonetheless, as members of the Senate Finance Committee met with Trump at the White House Wednesday, Thune said Trump told the Democrats that he shares their concern to make sure middle-class taxpayers benefit more than the wealthy. Hatch said Trump spoke to Democrats more than to Republicans during the session.
The talk of bipartisanship came on the same day that Treasury Secretary Steven Mnuchin appeared to contradict Trump's middle-class messaging in a published interview. Mnuchin told Politico it's difficult for tax legislation to avoid providing a tax cut for the wealthy.
"The top 20 percent of the people pay 95 percent of the taxes. The top 10 percent of the people pay 81 percent of the taxes," Mnuchin said in the interview. "So when you're cutting taxes across the board, it's very hard not to give tax cuts to the wealthy with tax cuts to the middle class. The math, given how much you are collecting, is just hard to do."
Dynamic Scoring
There are other points of disagreement as well. On Wednesday, Thune said Democrats would "have to back off" what he characterized as a requirement that the bill must avoid adding to the deficit on a so-called "static" basis. Senate Republicans want to use dynamic scoring -- that is, they want to consider the legislation's effect on the larger economy -- in determining its fiscal effects.
Additionally, Trump delivered a speech to the conservative Heritage Foundation on Tuesday in which he said it would be hard to get Democratic votes for a tax bill "because they're obstructionists."
Still, Democrats emerged from a White House meeting describing a president who seemed to want their support.
"I think the president would really like to have some Democrats engaged," said Senator Claire McCaskill, a Missouri Democrat. "I mean I think he wants a bipartisan deal." She called the exchange "interesting," but said she wants to think through the exchange before discussing it publicly to ensure she's "thoughtful in the way I characterize it."
Senator Sherrod Brown, an Ohio Democrat, said he discussed a tax credit for working families, among other ideas, with Trump.
"He says they want to focus on the middle class, so we'll see," Brown said. "I know that's not what the bill does now."
'Productive' Session
Brown also said he was concerned that Senate leaders, including Senate Majority Leader Mitch McConnell and Hatch "and the special interest Republicans on Capitol Hill will not be so embracing of it."
Democrat Bill Nelson of Florida, another Finance Committee member, said the proof of a bipartisan bill remains to be seen -- but he said Trump called it a good idea.
In a statement, the White House press office described Wednesday's meeting as "productive."
"The group discussed the historic nature of tax cuts and reform, and stressed the urgent need to deliver tax relief for the middle class by cutting taxes and simplifying the burdensome tax code," the White House statement said. "The Administration looks forward to continued opportunities to reach across the aisle in an effort to provide tangible quality of life improvements for the American people."
— With assistance by Laura Davison, and Laura Litvan
Before it's here, it's on the Bloomberg Terminal.
LEARN MORE