Hard Brexit Would Be Catastrophic, Former Irish PM Kenny Says
By
Return of Irish border would threaten peace agreement

Frontier will be only EU-U.K. land crossing after Brexit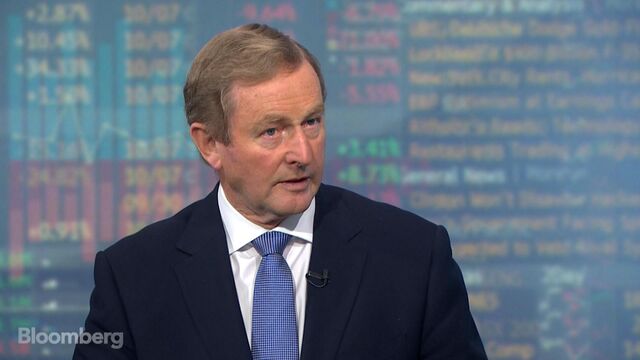 A so-called hard Brexit would be "catastrophic," former Irish Prime Minister Enda Kenny said, criticizing U.K. leaders for failing to consider the impact on Northern Ireland's peace process.
If Britain leaves the EU and its single market, it could leave Northern Ireland with a hard border and bring back "sectarianism and untold problems," Kenny, who stepped down in June, said Wednesday in an interview in New York.
Ireland's government is considering pushing for guarantees that no border will be reimposed as the price for allowing Brexit talks to move ahead, according to three people familiar with the matter. Violence between republican and unionist paramilitary groups claimed about 3,500 lives from the 1970s onward before the arrival of the European single market and a peace accord in the 1990s, when border controls largely melted away.
Finding a solution to the Irish border is one of three key issues that have been identified, along with citizens' rights and money owed by the U.K. They require "sufficient progress" toward a resolution before the EU will allow talks to move on to Britain's future trade relationship with the bloc. The 310-mile (500-kilometer) frontier will be the only EU-U.K. land border after Brexit.
The Northern Ireland question "should have been considered far more carefully by British politicians" before the referendum, Kenny said. "We should not forget the EU is not just an entity of a single market or customs union. It's also the longest lasting peace process on the planet."
Ireland "will not tolerate" Northern Ireland's peace agreement being "infringed in any way," Kenny added.
Before it's here, it's on the Bloomberg Terminal.
LEARN MORE