politics
McCain Backs Disclosure of Political Ads on Social Media
By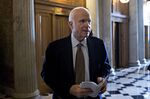 Senator John McCain is the first Republican co-sponsor of a bill that would require disclosure of who's paying for political ads on social media networks including Facebook, Twitter and Alphabet Inc.'s Google.
The bill, authored by Democratic Senators Amy Klobuchar of Minnesota and Mark Warner of Virginia, came after the three companies acknowledged Russian exploitation of their networks to spread propaganda and chaos during the 2016 campaign.
Facebook lobbied for years to exempt online ads from disclosure requirements. By contrast, political ads on television have disclosure requirements, including who is financing ads and how much is being spent on them, enforced by the Federal Election Commission.
"The content and purchaser(s) of those online advertisements are a mystery to the public because of outdated laws that have failed to keep up with evolving technology," reads the announcement of the bill, set to be introduced Thursday. "The Honest Ads Act would prevent foreign actors from influencing our elections by ensuring that political ads sold online are covered by the same rules as ads sold on TV, radio, and satellite."
Before it's here, it's on the Bloomberg Terminal.
LEARN MORE