Google Briefs House and Senate Russia Investigators
By and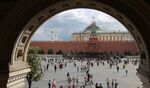 Officials from Alphabet Inc.'s Google have briefed U.S. House and Senate investigators from the intelligence committees probing Russian interference in last year's presidential election, according to people familiar with the briefings.
Facebook Inc. and Twitter Inc. had already briefed investigators and are expected to send company officials to Nov. 1 Capitol Hill hearings on Russia's use of social media to spread propaganda. Lawmakers also invited Google to attend.
Both Facebook and Twitter already have detailed publicly what they found on their networks, including fake accounts and advertising by Russians.
Before it's here, it's on the Bloomberg Terminal.
LEARN MORE