Mega-Landlords With 700,000 Homes to Explore Joint Ventures
By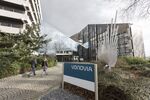 Vonovia SE, Germany's largest real estate company, and a unit of France's Caisse des Depots agreed to look at opportunities for cross-border investment in the residential-property market.
Vonovia and SNI Group plan to explore potential investment partnerships while pooling their expertise and market intelligence, according to a statement on Wednesday. Bochum-based Vonovia owns about 355,000 apartments, while SNI is France's biggest social-housing landlord with about 348,000 homes, most of which are affordable properties.
The agreement "paves the way for a pan-European housing-development model," Andre Yche, chairman of SNI's management board, said in the statement.
Vonovia expanded outside its home market last year by acquiring Austrian developer Conwert Immobilien Invest SE. That followed the company's failed attempt to buy its biggest German competitor, Deutsche Wohnen SE, which would have resulted in the country's largest-ever real estate deal.
Quotes from this Article
Before it's here, it's on the Bloomberg Terminal.
LEARN MORE