Enel to Seek More Deals in Energy Storage Business, CEO Says
By and
Europe, U.S., Latin America have most potential, Starace says

Utility is said to be ready to announce new deal in weeks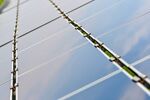 Enel SpA is seeking acquisitions in the energy storage business, as developments in battery technology are set to play a key role for the wider adoption of renewable sources.
Europe's biggest utility by market capitalization sees the U.S., Europe and Latin America as the markets with the most potential, Chief Executive Officer Francesco Starace said in an interview.
"Technologies are fast approaching the point where batteries will be commercially attractive," Starace said on Oct. 17 on the sidelines of the Open Innovations forum in Moscow. "There are parts of the world where it's already convenient."
While green power sources are increasingly seen as alternatives to traditional electricity, the challenge for utilities is to develop sufficient storage capacity to minimize "intermittency" and storage issues associated with solar panels and wind plants. Global storage capacity will then need to triple to 15.7 terawatt-hours by 2030 from around 4.7 this year, according to the International Renewable Energy Agency.
Rome-based Enel, which made a string of acquisitions in the sector this year, is expected to close a new deal this month in the energy management business, according to a person close to the company who asked not to be named because discussions are private.
Enel has already announced a number of deals this year, including the acquisition of software provider EnerNOC in August and of the Tynemouth standalone battery energy storage system project in Newcastle, U.K. in May.
A number of the company's investors have said they approve of the approach, citing further growth potential.
"We are 'constructive' on names that are positioned along networks, clients and renewables, which we believe hold strategic value into any mergers and acquisition-driven corporate landscape reorganization," Camilio Azzouz, an investment analyst at Amber Capital UK LLP in London, said in an interview. "We see the Americas as an ongoing key growth driver for the sector -- a region where we expect more corporate activity driven by European utilities."
Quotes from this Article
Before it's here, it's on the Bloomberg Terminal.
LEARN MORE