Democratic Officials Seek Fast Rescue for Obamacare Payments
By
19 attorneys general ask judge to put brakes on Trump plan

Court fight escalates amid deal-making efforts in Capitol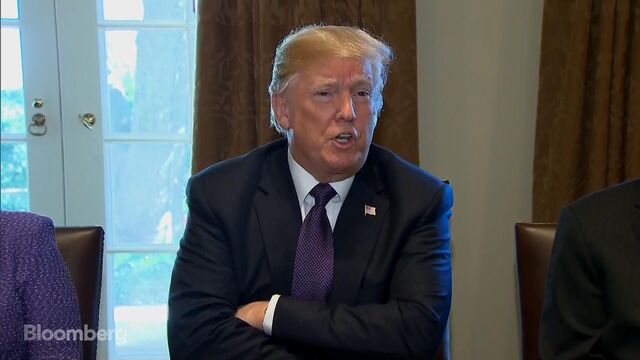 The court fight over the Trump administration's move to halt Obamacare subsidy payments is escalating.
Led by California Attorney General Xavier Becerra and New York's Eric Schneiderman, a Democratic coalition representing 18 states and the District of Columbia asked a federal judge on Wednesday to temporarily block the White House from ending so-called cost-sharing reduction payments to health insurers under the Affordable Care Act.
The subsidies, which enable the companies to lower out-of-pocket costs for poorer policyholders, were expected to top $7 billion this year. Even as the president derided the payments as bailouts, Democratic U.S. Senator Patty Murray of Washington and Republican Senator Lamar Alexander of Tennessee this week struck a deal to preserve them. Trump has since indicated opposition to that agreement, as have other top Senate Republicans, casting doubt about its fate.
Schneiderman, Becerra and the other attorneys general contend the ACA requires those payments be made, even though a U.S. judge in Washington disagreed in a 2016 decision that is currently under appeal. Immediate elimination of the payments would inflict multimillion-dollar losses on carriers and force them to raise premiums, forcing people to go without coverage, according to the AGs. The latest round of payments are to be made this week.
The coalition, which sued last week in San Francisco, is now seeking an order preserving the status quo until the issue can be more fully argued in court. U.S. District Judge Vince Chhabria told lawyers during a telephone conference Wednesday that he'd like to hold a hearing early next week so he can issue a ruling soon after.
The U.S. Justice Department press office didn't immediately respond to an emailed request for comment.
The case is California v. Trump, 3:17-cv-05895, U.S. District Court, Northern District of California (San Francisco).
— With assistance by Joel Rosenblatt
Before it's here, it's on the Bloomberg Terminal.
LEARN MORE