Brexit Isn't the Biggest Talking Point at the EU Summit
By , , and
EU leaders meet in Brussels on Thursday, starting at 3:30 p.m.

Summit discussion will cover North Korea, trade and migration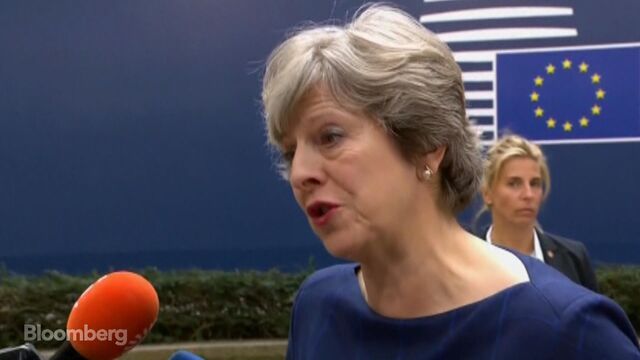 Once heralded as a crucial moment in Britain's march out of the European Union, a meeting of the bloc's leaders this week will instead focus on other simmering crises amid stalled Brexit negotiations. 
EU chiefs meeting in Brussels on Thursday and Friday are set summarily to declare that there has been insufficient progress in separation talks with the U.K. to allow parallel trade negotiations to begin. That gives the government heads latitude to discuss other priorities, ranging from U.S. President Donald Trump's threat to ditch the Iran nuclear accord to concerns over North Korea.
Here are some highlights of what EU leaders will discuss:
Turkey Tussle
Leaders plan to vent frustration over Turkish President Recep Tayyip Erdogan's crackdown on domestic political opponents while avoiding any policy changes, such as formally suspending the country's 12-year-long negotiations on joining the bloc. This reveals the extent to which the status quo suits the 28-nation EU, with the membership talks already stalled and the bloc keen for Erdogan to uphold a 2016 agreement stemming an influx of Middle Eastern refugees. Still, while no decisions are expected to be taken at the summit, EU diplomats foresee some consensus to be formed around likely future actions regarding accession funds given to Turkey.
Iran's Nuclear Deal
The EU government chiefs will reiterate a determination to uphold the Iranian nuclear agreement after Trump last week threatened to walk away from the deal (which took 12 years of diplomacy to reach) and asked Congress to toughen the terms within 60 days. Europe is pinning its hopes on lawmakers in Washington to preserve the 2015 pact, arguing that Iran is in full compliance and that the deal is more important than ever for global security as North Korea pursues nuclear-weapons tests.
French Trade Brake
New French President Emmanuel Macron will take a page out of France's old EU handbook when he warns the bloc against rushing into more free-trade deals, which other European governments believe are key to countering Trump's protectionist tilt. Macron's timing, as head of a top European agricultural producer, isn't coincidental: EU trade negotiators are seeking to strike a market-opening accord by year-end with the Mercosur group of Latin American nations (after two decades of on-and-off deliberations) and are gearing up to start talks with Australia and New Zealand. The other non-coincidence: These pacts promise to expose French farmers to sharper import competition. Still, Macron's decision to add trade to the summit's agenda gives the leaders an opportunity for a broader discussion about the bloc's strategy, especially in light of a populist revolt that almost scuttled a landmark agreement with Canada.
North Korea
EU leaders will reiterate their calls to North Korea "to abandon its nuclear and ballistic missile programs in a complete, verifiable and irreversible manner." The bloc has recently escalated its sanctions against the regime, including a blanket ban on all investment in all sectors, and a full ban on oil sales. Leaders will consider "further measures," according to the latest draft summit conclusions obtained by Bloomberg. Trump's push to undo the Iran nuclear accord will only complicate the situation further, EU diplomats say, as it gives the impression that the West doesn't stick to its commitments to nations that opt for compromise.
Migration Money
EU countries including France and Germany are leading a push for a long-sought breakthrough over a controversial 2016 proposal, opposed by eastern members, to revamp European asylum rules by establishing a system for relocating refugees across the bloc when a gateway country is overwhelmed by arrivals. Italian Prime Minister Paolo Gentiloni told lawmakers in Rome on Wednesday that he would continue his country's "battle" at the summit for "a greater commitment" from other member states to manage the flow of migrants from across the Mediterranean. He said he would press for more resources and a stronger presence of humanitarian organizations in Libya, Italy's former colony.

Catalan Independence
While not formally on the summit's agenda, leaders will have half an eye on events in Catalonia, with Spanish Prime Minister Mariano Rajoy committed to revoking the region's devolved powers unless the separatist leaders back down by 10 a.m. Thursday. Should Spanish law-enforcement operations spiral out of control as they did during the illegal referendum on Oct. 1, Rajoy's colleagues would find themselves in the awkward position of having to wade into domestic politics.
Russian Gas Pipeline
Polish Prime Minister Beata Szydlo may seek support from her counterparts for a plan by the European Commission to make the Nord Stream 2 Russian natural-gas link project compliant with EU energy law. As member states remain deadlocked over a commission proposal to get a mandate for negotiations with Russia, the EU regulatory arm is said to be drafting a law that would make all new gas pipelines from third countries subject to the bloc's market-opening rules. Such a law would need backing from national governments and the European Parliament to enter into force.
EU's Future
Over breakfast on Friday, EU leaders will look at their road map for the bloc over the next two years, including closer defense cooperation and deeper euro-area integration. In a letter on Tuesday, European Council President Donald Tusk mapped out how the EU should move ahead in key areas and called for leaders to be more actively involved. EU diplomats said the letter was well-received by national capitals.

Visegrad Foie Gras
For most diplomats in Brussels, an accelerating drift of Eastern governments toward authoritarianism is a more serious threat for the EU than Brexit. EU Commission President Jean-Claude Juncker hosted a dinner with leaders of Poland, Hungary, Czech Republic, and Slovakia on Wednesday, in an effort to ease tensions over asylum policy, and the respect of rule of law. The lavish dinner, which included Jerusalem artichokes and foie gras, yielded a promise that the commission will seek to build an environment of consensus between the so-called Visegrad 4 countries and rest of the EU.
... And Toxic Fumes
In case the bloc's leaders don't have enough on their mind already to give them a headache, toxic smoke may do. The spanking-new Europa Building, which serves as the seat of the European Council and cost 321 million euros, has been evacuated twice in the past week after an unspecified "technical issue" in its ventilation systems produced noxious fumes, sending staff members to hospital. The venue of the summit was moved to the old Justus Lipsius building next door, sparing leaders the prospect of a debate about global security threats being overshadowed by a local security alarm.
— With assistance by John Follain, Ian Wishart, Ewa Krukowska, Gregory Viscusi, and Ben Sills
Before it's here, it's on the Bloomberg Terminal.
LEARN MORE