Bond Market's 'Taylor Put' Signals Traders on Edge Over Fed Pick
By and
Volume surges in eurodollar puts betting on faster tightening

Positioning belies decline in gauges of Treasuries volatility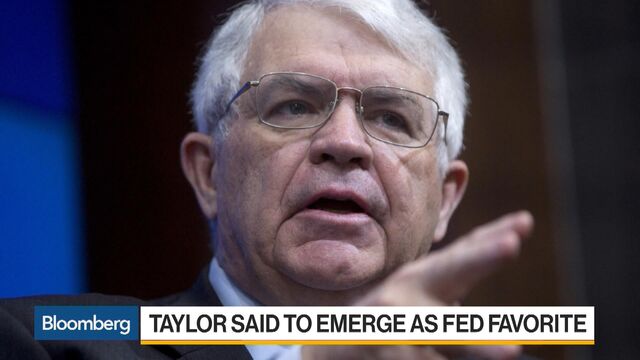 At first glance, the $14.1 trillion Treasuries market is as calm as ever, with volatility falling for seven straight days to a near-record low. 
But scratch a bit below the surface and it's clear that angst is building as traders wait for President Donald Trump's choice to lead the Federal Reserve, a decision expected any time before Nov. 3.
Look no further than the flurry of activity in interest-rate options this week, particularly in one-year eurodollar mid-December puts, which in the last few days have colloquially been referred to as the "Taylor put." The contracts earned that moniker because traders are buying them either outright or to cover short positions following reports that Trump gushed about John Taylor, a candidate for Fed chair. The Stanford University economist, who visited the White House for an hour-long interview last week, is seen as the most hawkish of the five candidates on the president's short-list.

The thing is, you'd never know that traders were even the slightest bit ruffled from looking at gauges of bond-market volatility. Bank of America Corp.'s MOVE Index, which tracks swings in Treasury options, has declined every trading day since Oct. 6. It's now barely above the 29-year low reached in August. The situation is the same for currencies, where volatility has slumped to the lowest annual average since 2014, according to a Deutsche Bank AG index.
That's been the story across markets in 2017, with U.S. stocks grinding to record highs while 10-year Treasury yields fluctuate in the tightest trading range in nearly 27 years. Measures of the U.S. yield curve have reached the flattest since 2007, reflecting traders' confidence that they've grasped the direction of Fed policy.
"The current macro environment and Fed guidance continue to be fundamentally negative for short-dated volatilities," Citigroup Inc. strategists Ruslan Bikbov and Jason Williams wrote in a report this week. Higher volatility, they say, requires a steeper curve, which would reflect a market that's "far away from equilibrium and therefore is inherently more uncertain."

The stubbornly low volatility has some people warning of complacency, almost a year after Trump's surprise election victory.
The traders snapping up Taylor puts, however, aren't sitting on their hands. 
Preliminary open interest data from CME Group released Wednesday shows additions to the already large position that traders have been building in mid-December eurodollar puts. The underlying futures contract trades at about 98.06, while the put's strike is 97.875, a level not seen since March. The lower the value, the faster the expected pace of Fed hikes in the following 12 months.
A total of more than 400,000 of the options traded in the first two days this week. The data suggest that some traders are buying them to hedge against a Taylor nomination, while others may be covering positions that would suffer if the Fed were to accelerate the pace at which it's tightening.
Of course, all this positioning could be for naught. After all, Trump is set to meet current Fed Chair Janet Yellen Thursday, and he says he likes all five people on his short-list.
So, perhaps a "Yellen call" is the next trade.
— With assistance by Lananh Nguyen
Before it's here, it's on the Bloomberg Terminal.
LEARN MORE