Balance of Power: Xi's Plans for China Are Big. Really Big.
By and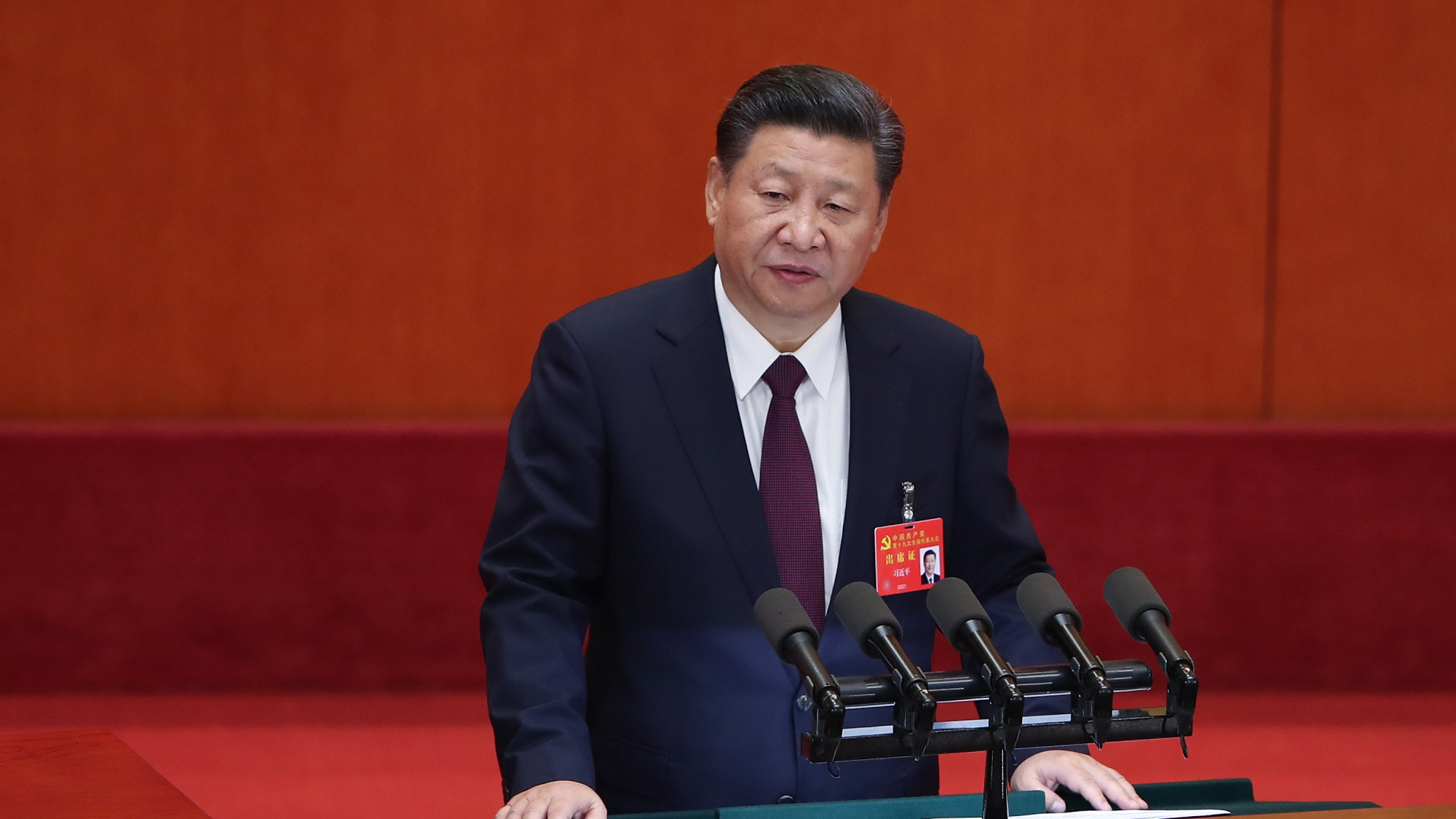 We knew Xi Jinping had big ambitions for China. Today we learned how big.
In a three-and-a-half-hour speech to Communist Party cadres laden with historical sweep, Xi laid out a 30-year road map to solidify China's status a great power. By 2050, Xi said the country would lead the world in innovation, influence and military might — a model for the "whole humankind."
Xi's plan assumes China can manage a bunch of issues: Soaring debt, the expectations of a growing middle class and the administration of U.S. President Donald Trump. He may choose also to avoid potentially risky but much-needed structural economic reforms at home.
Still, his comments made clear China's challenge to the U.S.-led international order.
As political upheaval draws Western democracies inward, Communist China has become a surprising advocate for globalization. The president warned that China and the world are in the midst of profound and complex changes.
Clues as to how long Xi, 64, intends to guide that vision could emerge next week when the party's new top leaders are unveiled. That lineup may indicate if Xi plans to anoint a successor or lay the ground to keep power after 2022. 

Sign up to receive the Balance of Power newsletter in your inbox, and follow Bloomberg Politics on Twitter and Facebook for more.
Global Headlines
Health care hurdle | U.S. senators' bipartisan deal to prop up Obamacare's insurance exchanges faces a tortuous path to becoming law. The administration — which prompted the fix when it nixed subsidies to Obamacare insurers — is sending conflicting signals about whether Trump would support the legislation if it makes it to his desk, a tall order given the outright hostility from many Republicans.
Buying time on Nafta | Canadian Foreign Affairs Minister Chrystia Freeland lambasted the Trump administration's approach to Nafta talks yesterday — while sharing a stage with her U.S. counterpart. Negotiators extended the troubled talks into the first quarter of 2018 after Canada and Mexico rejected what they see as hardline U.S. proposals.
Who's the EU talking to? | European governments are voicing their previously private concerns about dealing with a U.K. government deeply divided on Brexit. Negotiations are complicated because some British officials don't agree with each other on what leaving the EU "actually means," Irish Prime Minister Leo Varadkar told the BBC yesterday, echoing Finnish comments. All this adds to the sense the talks may not produce a deal before the deadline 18 months away — and that would mean chaos for companies and daily life.
Fake advertising assist | Using a mix of anti-Hillary Clinton and anti-Islam messages, the nonprofit Secure America Now worked directly with Facebook and Google to target ads to swing state voters in the final weeks of the 2016 election, Benjamin Elgin and Vernon Silver report. The ads included faux-tourism videos showing France and Germany overrun by Sharia law.
'Knew what he signed up for' | The U.S. President is facing renewed criticism of his skills as empathizer-in-chief after Representative Frederica Wilson relayed to CNN a conversation she overheard between Trump and the widow of a soldier killed this month in Niger. Trump told Sergeant La David Johnson's widow, "I guess he knew what he signed up for," the Florida Democrat said.
And finally... The last five of North Korea's six nuclear tests have been carried out under Mount Mantap, leading to what looks like a case of "Tired Mountain Syndrome," according to Pyongyang-watcher 38 North. There have been three small earthquakes in the area since the most recent test, indicating parts of the mountain might be caving in, and more detonations are expected. North Korea has warned a nuclear war "may break out at any moment" and South Korea is preparing for another possible missile launch.

— With assistance by Karl Maier
Before it's here, it's on the Bloomberg Terminal.
LEARN MORE