ADP Chief Calls Ackman's Proxy Fight a Distraction From Plan
By
Rodriguez says company has right strategy and board in place

CEO says activist's proposals based on inaccurate, dated info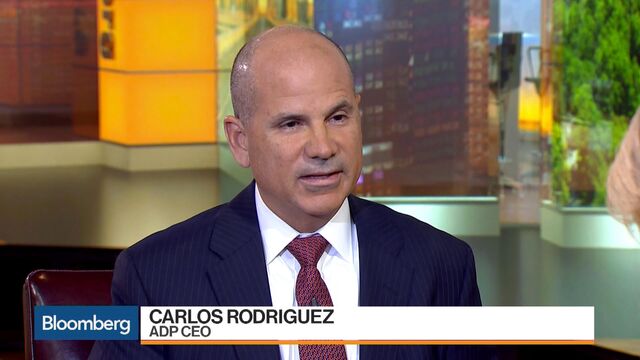 Bill Ackman's proxy battle at Automatic Data Processing Inc. was dismissed by Chief Executive Officer Carlos Rodriguez as a major distraction based on inaccurate claims.
"If there was a button we could push that said 'more profit' we'd push it," Rodriguez said in an interview at Bloomberg's New York headquarters Wednesday.
While both sides agree that improvements can be made to ADP's technology and its margins, the pace and magnitude of those changes has put them at odds, said Rodriguez, the company's CEO since 2011. Many of Ackman's claims are either unfounded or based on old information, he said.
"We've been going through a transformation for about five or six years and I don't think he had all the information available to him," Rodriguez said. "We've been making these big investments that have translated into real results."
Ackman's Pershing Square Capital Management disclosed an 8.3 percent position in the payroll and human resource outsourcer in August. With a vote set for Nov. 7 at ADP's general meeting, the activist investor has been pushing for three seats on the board, including one for himself.
The billionaire investor has been meeting with ADP shareholders to make his case that the company, despite a 13 percent profit margin for the year ended June 30, is falling behind rivals by not performing at its full potential. His criticisms have been aimed at what he claims are inefficiencies and a lack of innovation that he blames on ADP's "buy not build" strategy. He contends the company is losing ground to smaller competitors because of a bloated and insular culture.
Ackman said last week that he thinks a settlement is unlikely, unless the board throws its support behind him and his plan. Rodriguez said he sees little room for compromise before Nov. 7.
'Good Ideas'
"I'm sure Bill has good ideas, and I think he's shared some of them with us," Rodriguez said. "We've seen that also in writing from him that, 'If you see things my way, then I'm willing to comprise.' That's not really a compromise."
Ackman has said he believes ADP could improve its margins by as much as 1,200 basis points and see its share price more than double to as a much as $255 by June 2021. That can be achieved by monetizing its real estate holdings, offering incentives to executives to beat targets, and by potentially acquiring competitors such as Ceridian HCM Holdings Inc., he has said.
Rodriguez said he has been unimpressed by Ackman's proposals, and that the company's directors determined Pershing Square's candidates lacked the necessary technological experience and would add little value to the board.
'Concrete Plans'
"He may think that he has a concrete plan," Rodriguez said. "But we have yet to see anything other than generalizations about too many layers of management, too much cost and not moving fast enough. We don't see any concrete plans. We have concrete plans."
ADP has set a goal of improving margins by 500 basis points over the next three years, he said. He pointed to ADP's mobile applications, a new user interface for mid-market and down-market platforms and 83 percent of its clients transitioning to cloud technology as examples of the company's innovations.
Rodriguez said Ackman has set a timeline for the turnaround because his options in the company expire in 2021. He also said Pershing Square's compensation model, in which investors pay the hedge fund 30 percent on any return in excess of 5 percent, is a motivation.
"That feels like a strong incentive to generate outsized returns," he said. "Outsized returns are a good thing for investors. But most of the time in the capital markets it comes with risk."
Job Losses
Rodriguez said the biggest risk is that ADP will lose clients while implementing that sort of aggressive change. He said ADP also estimates that the changes Ackman is proposing would result in 15,000 to 20,000 job losses out of a workforce of 58,000.
"Unless you believe those people are sitting around twiddling their thumbs and doing nothing, that to me would represent risk," he said. "Our clients are an important part of our success and the pace has to be appropriate for the client."
He also pointed to Ackman's failed investments in Valeant Pharmaceuticals International Inc., J.C. Penny Co. and Borders bookstores as another cause for concern. Ackman said last week during his meetings with ADP investors that none of them mentioned concerns about those investments.
"I don't see how they couldn't be concerned," Rodriguez said. "There's a misalignment of incentives here."
Ackman's Record
Ackman has pointed to his track record at companies including Canadian Pacific Railway Ltd., Howard Hughes Corp. and Air Products and Chemicals Inc. The fund has returned on average about 144 percent for its current and former activist investments, versus an average of 17 percent returned by the broader S&P over the same period, according to 13D Monitor, a research firm specializing in shareholder activism. Pershing has also outperformed other activists, including Elliott Management Corp. and Carl Icahn, according to the data.
"I'm not in the business of going back five years to talk about what I did five years ago," Rodriguez said. "I think it's the more recent performance and the plans going forward that are more relevant."
Roseland, New Jersey-based ADP, which handles payroll for 26 million workers in the U.S., has so far resisted Pershing Square at every step and has nominated its existing 10 directors, including Rodriguez, for re-election.
Rodriguez said he was looking forward to putting the whole matter behind him.
"It's extremely distracting and taking up a majority of my time," he said. "That, I hope, will not continue after Nov. 7."
Before it's here, it's on the Bloomberg Terminal.
LEARN MORE