Watch These Stocks as Nafta Negotiations Teeter on U.S. Proposal
By
Railway firms to beermakers rely on Canada, Mexico for sales

Nafta negotiations contentious after aggressive U.S. proposals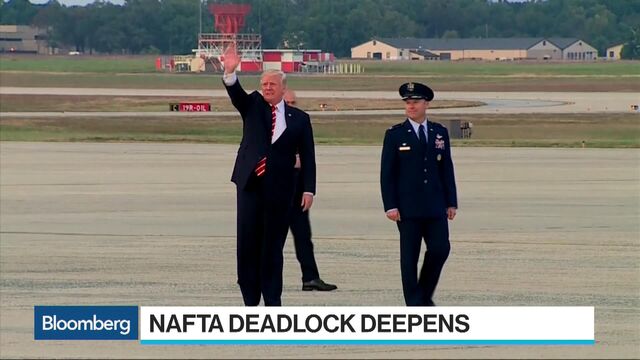 Concern the Trump administration will carry through on its threat to torpedo Nafta is showing up in U.S. equities. At least a few of them.
While the president's talk on protectionism has done nothing to slow the stock market as a whole, air pockets have developed in a smattering of transport and consumer companies that rely on the free trade agreement for large swaths of their business.
The fourth round of negotiations is nearing an end amid rising tensions over U.S. proposals, with statements from the delegations expected later Tuesday. For Greenwood Capital Associates's Walter Todd III, the tone of those will have big implications for his portfolio.
Kansas City Southern, the railroad with major business in Mexico and one of his holdings, slipped to an 11-week low Tuesday, and is down more than 5 percent in three days. Todd bought it in May after concern over the trade agreement renegotiation sent the company into a freefall. While it rebounded sharply, October is the stock's worst start to a month since 2016.
"We know that there is some risk here and we'll be watching the developments closely," he said. "The stock has had quite a rally, but here we go again."

It's a vigil that's playing out in various assets as the administration seeks more favorable trade for the U.S. Mexico's peso has been the most obvious barometer for investor sentiment, as the currency risks sinking into a downward spiral should negotiations fracture. Canada's dollar has been sucked into the downdraft, with the correlation coefficient to the peso rising each time.

For investors watching equities, identifying the losers has proven harder since the it's unclear how far-reaching the changes sought by the Trump administration will be. Some clarity came in recent days after U.S. negotiators put forth a string of bold proposals -- on auto rules of origin, a sunset clause, government procurement, and gutting dispute panels seen by the other nations as core to the pact. Canada and Mexico have long signaled opposition to them.
Below are some stocks that might see their revenue dinged if the negotiations lead to a breakdown in the 30-year-old trade pact.
Union Pacific Corp.
The Nebraska-based railroad operator connects with Canada's systems and serves as a major gateway to Mexico. Union Pacific relies on the southern neighbor for 10 percent of its revenue, and 12 percent of total volume either originates or terminates in Mexico. The stock has fallen 4.5 percent in October amid concern a border adjustment tax would crimp the company's revenue.

Magna International
Automakers would face major challenges to their business models, which rely on a web of cross-border suppliers. Magna perhaps best represents the issue, as the components maker relies on Canada and Mexico for one-third of its revenue, data compiled by Bloomberg show. Changes to rules on what share of a car must be sourced from Nafta countries will result in a "lose-lose" situation, the firm's chief executive officer said this month.

Cummins Inc.
Stricter content requirements for vehicles may hurt Cummins Inc., the Indiana-based engine manufacture whose two largest trading partners are Canada and Mexico. The rules, if implemented, could result in disruption of the company's supply chain, Cummins Chief Executive Officer Tom Linebarger said in an interview with Bloomberg earlier this month. Nafta is "critical" to the firm's success, Linebarger said.
Constellation Brands Inc. 
The producer of Corona beer derives more than half of its from imports from Mexico. Hispanic consumers make up 40 percent of the customers of the Victor, New York-based firm.
— With assistance by Katherine Greifeld, and Ben Bartenstein
Before it's here, it's on the Bloomberg Terminal.
LEARN MORE