U.S. Downplays Iraqi-Kurdish Clashes as 'Miscommunication'
Terrence Dopp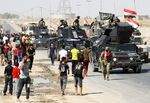 A spokesman for the U.S.-led coalition fighting Islamic State terrorists in Iraq and Syria played down tensions between Iraqi forces and Kurds, calling a face-off in Kirkuk province a "miscommunication."
Army Colonel Ryan Dillon, briefing reporters from Baghdad on Tuesday, urged all sides to "avoid escalation" as Iraqi government troops and forces from the semi-autonomous Kurdish region vied to control the oil-rich province. Iraqi troops on Monday seized oil fields, a refinery and a military base that all had been under Kurdish control.The area lies outside the Kurdish territory.
The region has been at the center of a struggle between Iraq's central government and The Kurdistan Regional Government. Kurdish forces seized the long-disputed region in 2014 to ward off Islamic State militants. The Kurds, who voted overwhelmingly for independence in a referendum last month, see the petroleum resources as an economic lifeline for a potential future state.
"We urge all sides to avoid escalation," Dillon said. "These tensions distract from our unified fight against ISIS."
CNN, citing Kurdish Peshmerga commanders, reported at least 16 Kurdish fighters were killed in the operation Monday and the Iraqi troops used U.S.-supplied weapons in the offensive. Dillon said there has been no further armed conflict reported among the two sides.
The tensions rose even as the coalition nears final control of Raqqa, Syria, the self-declared capital of the Islamic State's claimed caliphate. Dillon estimated the city is 90 percent under control and said Syria Defense Forces and partners are clearing out Raqaa as about 100 Islamic State fighters remain in pockets of the city.
Before it's here, it's on the Bloomberg Terminal.
LEARN MORE