U.K. Will Widen 'National Security' Takeover Test to Small Firms
By and
Threshold dropped to company turnover of 1 million pounds

Rules will also cover military and 'dual use' companies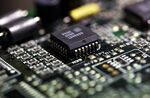 The U.K. government set out plans to make it easier to block takeovers of companies in cases when ministers are worried about security considerations, extending current rules to cover a wider range of firms, including small ones.
Under the proposals published Tuesday, the Enterprise Act 2002 will be amended to take in more defense companies and firms that make "dual use" products that can have both civilian and military applications. It will also cover companies that design computer chips and quantum technology.
The threshold at which the government can get involved will be lowered to sales of 1 million pounds ($1.32 million) a year from 70 million pounds currently. An existing requirement that a merger should increase the combined firms' market share to 25 percent will be scrapped.
Prime Minister Theresa May's government is trying to balance an openness to investment following Brexit with a desire to protect sensitive businesses from takeovers that could compromise national security. The consultation is split into two parts, with the focus on the Enterprise Act lasting four weeks and the longer-term reform review lasting twelve weeks.
It is unclear if ongoing deals will be affected by any potential changes. In September, Imagination Technologies Group Plc agreed to be acquired by China-backed private equity firm Canyon Bridge Capital Partners for about 500 million pounds -- a deal structured to avoid scrutiny from U.S. regulators
"The timing might be too short for these changes to be applied on this deal," N+1 Singer analyst Oliver Knott said. "The fact that it is being split into two consultations may indicate that they are trying to rush through the first set of changes in order to look at this deal in time."
A spokesman from Imagination declined to comment. The U.K. company predominately focuses on semiconductor and connectivity technology for a range of markets, including the telecoms and automotive industries.
"There are increasing threats from overseas in areas like cyber and tech components," Business Secretary Greg Clark told BBC Radio. "Sometimes very small companies can have very critical technology. We want to continue to expand our openness to investment. It makes sense to have a framework in place that allows comprehensive scrutiny."
The proposals stop short of promises May's Conservative Party made ahead of the June general election to tighten takeover rules to protect companies from unwanted advances.
Before it's here, it's on the Bloomberg Terminal.
LEARN MORE