BOE Nears 'Tipping Point' as Inflation Climbs to 5 1/2 Year High
By and
Consumer prices rise 3% and officials see them accelerating

Increase strengthens case for interest-rate hike next month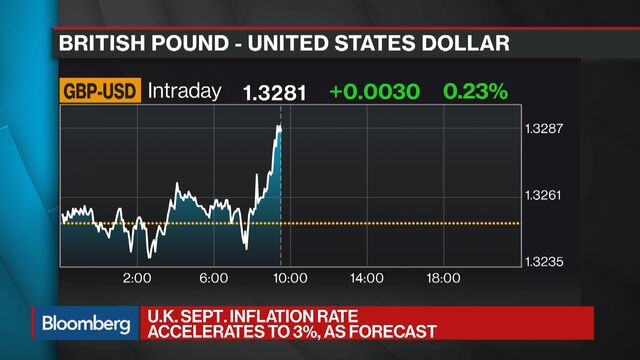 U.K. inflation reached 3 percent for the first time in more than five years in September, taking the economy closer to what one Bank of England official described as a "tipping point" for policy.
Consumer prices, boosted by the cost of food and transport, climbed at the fastest annual pace since April 2012. That intensifies the squeeze on British households and may embolden BOE policy makers to raise interest rates for the first time in over a decade next month.
That view was given some backing by Governor Mark Carney in testimony to lawmakers in London on Tuesday, when he reiterated his view that a rate hike may be coming.
"Having used up more spare capacity, having seen some evidence of building domestic pressures, the judgment of the majority of the committee is some raise in interest rates over the coming months may be appropriate."
His colleague on the Monetary Policy Committee, Silvana Tenreyro, told the same panel that while the ultra-loose policy stance so far has been appropriate, declining slack in the economy means a change may soon be needed.
"My view is that we are approaching a tipping point at which it would be necessary or justified to remove some of that stimulus," she said. "If the data outturns are consistent with the picture I just described, of an output gap going toward zero, then I'd be minded to vote for a bank rate increase in the coming months."

Inflation was a key topic in the series of testimonies, which started with BOE Deputy Governor for Markets and Banking Dave Ramsden, the MPC's newest member. Increases in oil and petrol prices mean it's "likely" inflation will climb higher in October, he said in written remarks released just before the latest data.
That would make it more than a full percentage point above the central bank's 2 percent target, meaning Carney would have to write a public letter of explanation to the Treasury. The governor admitted that it is more likely than not that he'll have to take that step, though he also said consumer-price growth is close to peaking.
The pound erased an advance after the inflation data to trade little changed at $1.3242 as of 11:38 a.m. London time. 
Import Prices
Tuesday's report showed core inflation unchanged at 2.7 percent last month, the highest rate since December 2011.
Rising import costs brought about by the weak pound should prove temporary, but officials are increasingly concerned that Brexit has left the economy prone to more persistent price pressures.
The BOE will publish new forecasts with its policy decision on Nov. 2. The central bank said in August that inflation would peak at around 3 percent this month, before falling to 2.6 percent by the third quarter of 2018. Officials are widely expected to raise the benchmark rate from its record-low 0.25 percent.
The central bank "risks losing credibility if it does not follow through with action," said Howard Archer, chief economic adviser to the EY ITEM Club. "It would now likely take surprisingly weak August earnings data and particularly poor third-quarter GDP growth data to deter the MPC from lifting interest rates."
Still, the decision isn't guaranteed.
"I still think there is some slack in the economy," Ramsden told lawmakers, also revealing that he wasn't part of the majority of policy makers seeing a likely need for higher interest rates soon. "I'm going to approach each MPC meeting as it comes."
The inflationary pickup in September came from a 0.8 percent increase in food prices, while transport costs fell less than they did a year earlier. Recreation and culture also contributed, as did the cost of motor fuel.
Clothing Prices
Downward pressure came from clothing and footwear, which rose 3.9 percent -- less than the 5.2 percent increase seen in September 2016. Air fares fell more than a year earlier, despite Ryanair canceling flights. The ONS said the latest survey of prices was completed before Centrica Plc announced a 12.5 percent increase in electricity tariffs.
Separate ONS figures showed annual house-price growth accelerating to 5 percent in August from 4.5 percent in July. London slowed to 2.6 percent.
Tuesday's data also underscored the effect of the weak pound, with manufacturing input prices rising 8.4 percent in September from a year earlier. The cost of goods leaving factory gates climbed 3.3 percent, showing firms are absorbing some of the cost.
Figures on Wednesday are expected to show wages lagging further behind inflation, despite the lowest unemployment for four decades. A first reading of gross domestic product data due next week will show the economy grew 0.3 percent in the third quarter.
The September inflation rate has traditionally been used to uprate welfare benefits for the following April, but many have been frozen until 2020 to help bring down the budget deficit. The Resolution Foundation warned this week that many low-income households are losing hundreds of pounds a year as a result.
However, retirees will see their pensions rise by at least 3 percent next year, in line with the September inflation rate. A "triple lock" guarantee means the state pension goes up each year by the CPI rate, earnings growth or 2.5 percent, whichever is greatest. Wages are growing by just over 2 percent.
— With assistance by Zoe Schneeweiss, Mark Evans, Harumi Ichikura, Catherine Bosley, and Marcus Bensasson
Before it's here, it's on the Bloomberg Terminal.
LEARN MORE