Trump Takes Credit for an Islamic State Defeat Years in the Making
By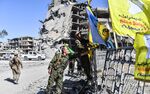 U.S. President Donald Trump took credit for making changes to the military that allowed U.S.-backed forces to retake the Syrian city of Raqqa -- the last major urban stronghold of Islamic State.
"It had to do with the people I put in and it had to do with rules of engagement," Trump said in an interview Tuesday on Washington-based radio station WMAL. "I totally changed the military. I totally changed the attitudes of the military."
Asked why Islamic State wasn't defeated or beaten back earlier, Trump said, "Because you didn't have Trump as your president."
Backed by airstrikes and special forces from a U.S.-led coalition, Syrian Democratic Forces first encircled Raqqa and then squeezed extremists into smaller pockets of territory, battles that left thousands of civilians and fighters dead and much of the city in ruins. Islamic State lost control of its most important bastion in neighboring Iraq -- Mosul -- three months ago, and is now reduced to a guerrilla force in its former heartlands.
The U.S. president didn't mention the key intervention of Russia in Syria's civil war in 2015, a move that surprised the U.S. and shored up the regime of Syrian President Bashar al-Assad. Assad's government had been losing territory to Islamic State and separate groups of terrorists and U.S.-backed rebels before Moscow intervened.
About an hour after Trump spoke, the Pentagon issued a statement emphasizing three years of efforts dating to the Obama administration to build up Iraqi armed forces and assemble a "large and powerful military coalition which has enabled partner forces in Iraq and Syria to liberate their countries from Daesh," another term used to identify Islamic State.
The Pentagon's efforts have "made significant progress but are not yet over, with an estimated 3,000 to 7,000 Daesh terrorists continuing to fight in Iraq and Syria. The liberation of Raqqah will be yet another milestone in our partners' achievements, but there will be more work to do to defeat Daesh."
Before it's here, it's on the Bloomberg Terminal.
LEARN MORE