Marino Has Dropped Out of the Running for Drug Czar, Trump Says
By
Pennsylvania congressman Marino pulls name amid controversy

Marino faced opposition from lawmakers over legislation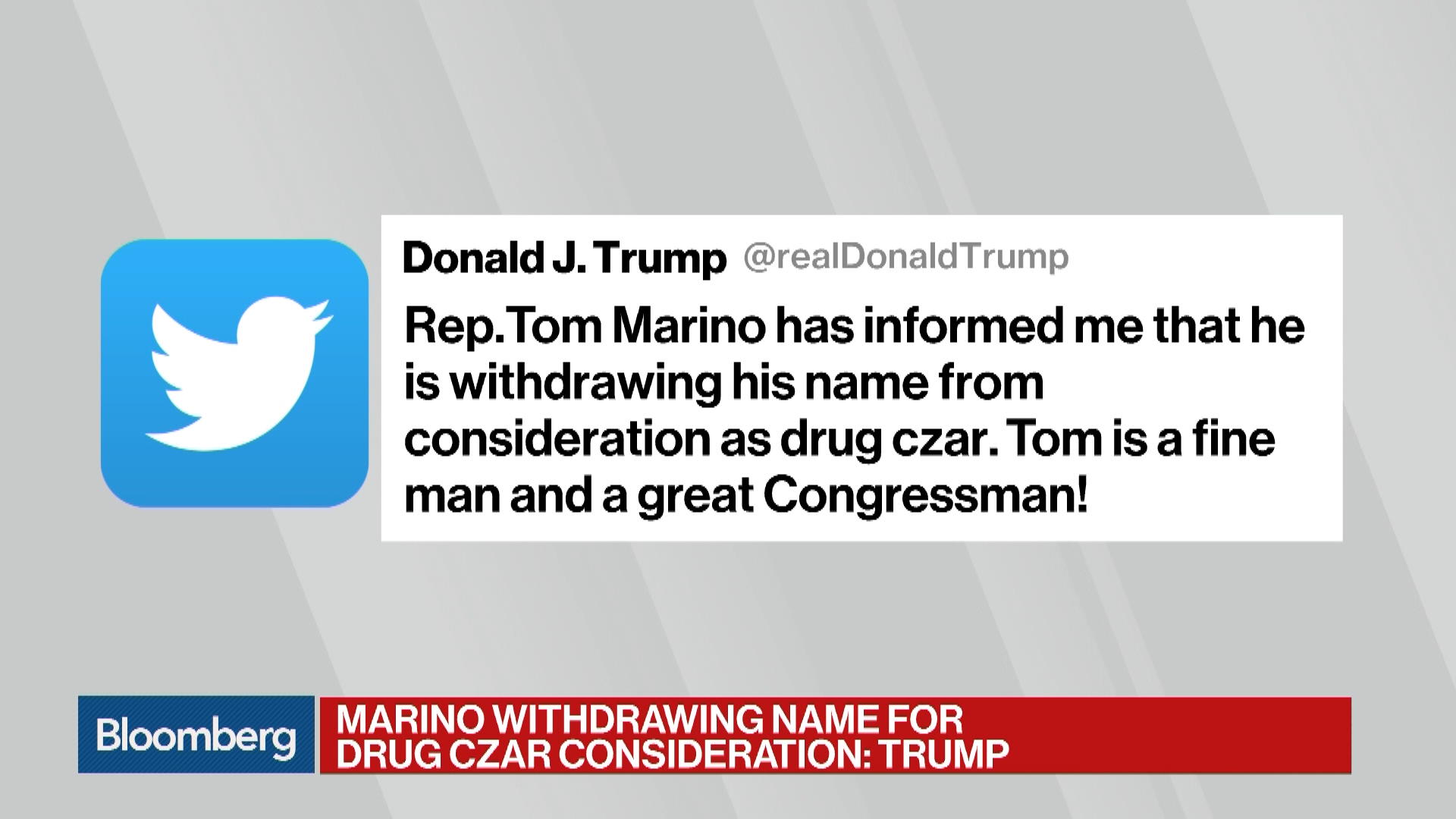 President Donald Trump said Tuesday his nominee to be the nation's drug czar, Tom Marino, withdrew from consideration following reports that he pushed legislation making it harder for the government to combat the opioid crisis.
"Rep. Tom Marino has informed me that he is withdrawing his name from consideration as drug czar," Trump said on Twitter, calling the Pennsylvania Republican "a fine man and a great Congressman!"
Marino faced growing opposition from key lawmakers, including West Virginia Democratic Senator Joe Manchin, after reports by the Washington Post and "60 Minutes" highlighting his role in supporting the Ensuring Patient Access and Effective Drug Enforcement Act. The law, which was backed by large drug companies, made it harder for the Drug Enforcement Administration to pursue enforcement actions on opioids.
The reports found that political action committees representing the drug companies contributed almost $100,000 to Marino's campaigns as he pushed legislation to weaken DEA's enforcement ability.
Every day, 91 people in the U.S. die from overdoses of opioids such as prescription painkillers and heroin. In 2015, there were about 15,000 total deaths from overdoses of prescription opioids, according to the Centers for Disease Control and Prevention.
Many more are addicted to the drugs. The CDC estimates that in 2014, 2 million Americans abused or were dependent on prescription opioids.
Trump called the U.S. opioid epidemic a national emergency in August, but has yet to formally declare it one -- a step that would open up federal resources and powers like negotiating for lower prices for overdose-reversal drugs, according to an interim report on the drug crisis.
Read More: Why the New Heroin Epidemic Is Fueled by Legal Drugs
Trump said Monday he planned to declare the opioid crisis a national emergency next week. But his selection of Marino as drug czar faced opposition from Democratic senators, including those in states most effected by the opioid crisis. Manchin, who was one of the most outspoken critics of Marino, called on Trump to withdraw the nomination.
"Over my dead body will he be the drug czar," Manchin said Tuesday morning on CNN, before Trump's announcement. "We have got to have someone who is passionate and Congressman Marino is not that person.''
Manchin said after the announcement that he looked forward to working with Trump to find a new director of the Office of National Drug Control Policy.
Trump, who said last week that Marino was going to be "amazing'' as drug czar, began to express some doubt after the news reports.
"I did see the report. We're going to look into the report and we're going to take it very seriously,'' Trump told reporters during a press conference on Monday. "I will speak to him and I'll make that determination. And if I think it's one percent negative to doing what we want to do, I will make a change, yes.''
Before it's here, it's on the Bloomberg Terminal.
LEARN MORE