China's Stocks May Be Dull, But the Yuan Has Run Wild
By
Shanghai Composite Index's moves are smallest since 1992

Yuan's intraday swings are biggest in at least a decade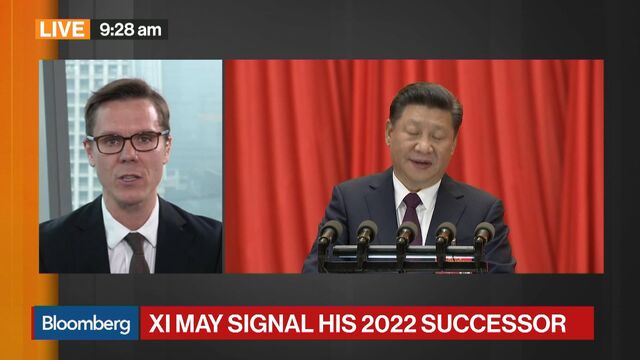 As China's Congress begins, the nation's financial markets are sharply diverging: stocks have never been this dull, while the yuan has never been this wild.
The equity market, the largest after the U.S., has been subject to stringent control since a bubble burst two years ago, with regulators crushing any sign of speculative trading. The result is the lowest volatility in 25 years, with the benchmark Shanghai Composite Index not even nudging 2 percent in a trading session this year. Conversely, the currency's average intraday swings in the past month are the biggest in at least a decade, with officials even tacitly endorsing volatility by making it easier to short the currency.

A dual mandate of opening up financial markets while maintaining control has been a hallmark of China's policy priorities under Xi, who spelled out his plans for the next five years at the Congress that started today. In a speech that ran for more than three hours, Xi said China would continue opening its doors to foreign businesses, defend against systemic risks, deepen reforms of state-run enterprises, strengthen regulation of the financial sector as well as better coordinate fiscal and monetary policy.

People's Bank of China Governor Zhou Xiaochuan added to the debate last week, when he called for the country's foreign exchange rate to be more market-based and capital controls to be relaxed in order to allow greater opening of the economy. The comments, made in an interview with the Chinese financial magazine Caijing, propelled the yuan's one-month implied volatility to levels last seen in January.

The U.S. Treasury said Tuesday that China "significantly" curtailed intervention to support the yuan in the first half of the year as depreciation pressures faded. "On a trade-weighted basis, the currency has become more competitive globally," the department said in a twice-yearly report.
The yuan was little changed at 6:06 p.m. local time, while the Shanghai Composite added 0.3 percent at the close.
— With assistance by Justina Lee, Kana Nishizawa, and Emma Dai
Before it's here, it's on the Bloomberg Terminal.
LEARN MORE