Qualcomm's Apple Suit to Play Out in Specialist Beijing Court
Bloomberg News
The outcome of the case could affect up to a million workers

Three-year-old Beijing IP Court is favored for rights dispute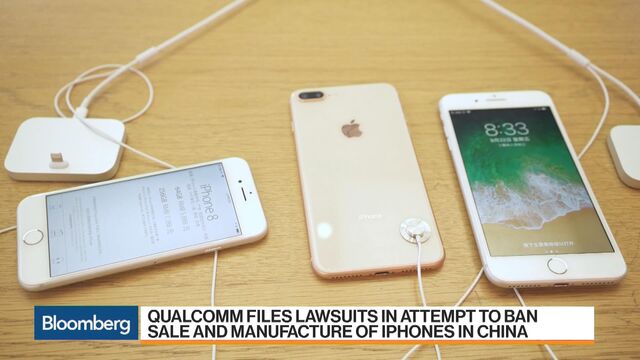 As Qualcomm Inc. turns to a Chinese court in its battle with Apple Inc., the task of deciding who prevails in a dispute that could affect a million workers falls to a relatively new arm of the country's judiciary.
The Beijing Intellectual Property Court is one of three specialist venues in the Chinese judiciary set up to rule exclusively on such cases. Since being established in 2014, they've proven popular with plaintiffs asserting copyright because of a perceived willingness to mete out stiffer penalties and have heard other cases involving Qualcomm and Microsoft Corp.
Qualcomm made its court filing Sept. 29, seeking to ban production and sale of iPhones in China. That would hit Apple in its biggest overseas market and the country where most of its products are made. It's the latest step in a global battle over patent licensing fees and is being waged in a venue created just for complex technology and intellectual property disputes.
The ramifications are huge. Through assemblers such as Foxconn Technology Group and Pegatron Corp., Apple is the biggest factor for the roughly 1 million workers at factories from Shenzhen to Zhengzhou. A ruling against it could more than disrupt production, it would jeopardize jobs that are a major force in lifting regional economies from poverty.
The Beijing IP court handles patent, trademark and some administrative cases involving copyright and unfair competition, with the power to issue injunctions and award damages. Its verdicts can be appealed to the High Court in Beijing, according to jurisdiction rule.
"Qualcomm may think it's good timing to file the case as Apple is slowly declining here in China," said Jin Di, an analyst at IDC. "Neither side is apparently backing down and the best solution could be going back to the negotiation table."
It won't be Apple's first experience in this court, with the company winning a dispute with little-known smartphone vendor Shenzhen Baili over design patents. In a dispute between Microsoft and China's trademark approval committee earlier this year, the software giant won its case at the court. It also ruled in favor of Qualcomm in a high-profile patent dispute against Alibaba-backed smartphone maker Meizu.
If Qualcomm's dispute is to play out in the court, it could take months. The average time to close a case is 125 days, compared to 18 months in Europe and more than two years in the U.S., according to the Supreme Court's website.
"The Chinese judicial system doesn't have a time frame set for patent lawsuits involving overseas companies," said Cheng Yongshun, director of the Beijing IP Institute. "As a matter of fact, the courts handle cases involving foreign companies with extra caution and delicacy, which will also prolong the trial."
Complicating matters, there's little precedent for a Chinese court issuing injunctions at the behest of an American company. Cases involving foreign companies can be unpredictable. Last year, Apple took a handbag maker to task for using the "iphone" label --- and lost.
The Beijing IP Court is also struggling with a massive workload -- it accepted more than 10,000 cases in 2016, a burden that's growing more onerous, according to law firm Hogan Lovells.
Qualcomm and Apple's dispute is centered on patent licensing. While the San Diego-based company gets the bulk of its revenue from making phone chips, it pulls in most of its profit from charging fees for patents. It charges fees based on the price of a handset using its patents even if a Qualcomm chip isn't inside.
The dispute has seen Apple cut off payments to Qualcomm while the chipmaker has countered with a suit arguing the iPhone-maker encouraged regulators from South Korea to the U.S. to take action against it based on false testimony. It's also asking U.S. authorities to ban the import of some versions of the iPhone, arguing they infringe on its patents.
Qualcomm's best hope in the short term may be to bring a more conciliatory Apple to the negotiating table. By threatening its crucial supply chain, in a massive market with which it has little experience waging costly legal battles, Qualcomm may yet get Apple to come to a compromise.
"Having two sides trying to blow each other up is not good for anyone but lawyers," said Erick Robinson, Director of Patent Litigation at Beijing East IP who managed IP issues for Qualcomm in Asia about three years ago.

— With assistance by Yuan Gao, and David Ramli
Before it's here, it's on the Bloomberg Terminal.
LEARN MORE