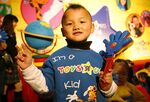 Tired of your current crop of toys? Just make up a new game to play. 
That schoolyard logic can be applied to Toys "R" Us Inc., the debt-laden retailer that filed for bankruptcy in North America last month but excluded its Asian unit from the proceedings.
Now the company is considering a separate IPO that may value its growing Asia business at as much as $2 billion, Bloomberg News reported Tuesday, citing people familiar with the matter. Investors should at least entertain the idea.
For one thing, Toys "R" Us did not declare bankruptcy because children stopped wanting toys or parents started shopping exclusively online. The bigger culprit was the debt private-equity owners hitched to the retailer in a $7.5 billion leveraged buyout in 2005, leaving the company with about $400 million a year to service. There was little left over to respond to competitors like Amazon.com Inc. and adapt to consumers' rapidly changing tastes.
A Toys "R" Us without that crushing debt stands a much better chance of success. Especially the Asia part, which continued to expand as the parent struggled. There are now 439 stores in the region, up from 282 in 2013.
During that time, China and Southeast Asia revenue increased 61 percent to $375 million last year. Sales in Japan -- 11 percent of the total -- rose 7.6 percent in 2017 from the year before, reversing a multi-year slump.

The consumer story in China has more room to run. We're seeing this with a handful of Western brands that struck a local chord, including Yum China Holdings Inc. and Starbucks Corp., which recently took full control of its China operations.  
Toy and game sales in China have posted double-digit growth for the last four years, outpacing the U.S. and the rest of the world, according to Euromonitor International. The consulting firm estimates Toys "R" Us commands 20 percent of the Asia-Pacific market.
Toys "R" Us will be able to benefit from legions of Chinese parents who are trading up to better-quality goods at every income level, and whose top spending priorities are their children. Just look at diaper spending per baby, which is growing faster in China than anywhere else in the world besides India, according to Euromonitor. 
Prospects are better still if Toys "R" Us Asia is smart enough to tap into retail growth in second- and third-tier cities, which Morgan Stanley economists expect to account for two-thirds of consumption growth in the next decade. And better yet again if it can partner with the likes of Alibaba Group Holding Ltd. or Tencent Holdings Ltd. to sell online. 
Helping cater to those changing needs is a local partnership with Fung Group Ltd., owned by Hong Kong billionaires Victor and William Fung, which holds 15 percent of Toys "R" Us's Asia operations and pretty much wrote the playbook on sourcing, factories and Asian supply chains for global retailers like Wal-Mart Stores Inc. and Gap Inc.

North American bankruptcy proceedings could slow down a Hong Kong listing as the Asia branch unravels supplier and licensing agreements with the parent company and works through brand ownership.
Still, investors willing to risk a new game could enjoy some hefty winnings.
Before it's here, it's on the Bloomberg Terminal.
LEARN MORE