Mulvaney Sees Tax Bill Pushed to 2018 If Budget Isn't Approved
By and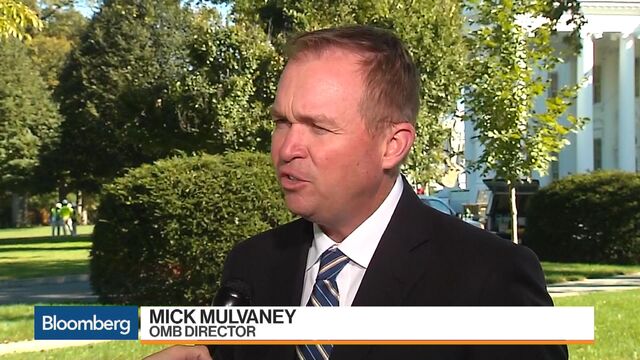 White House Budget Director Mick Mulvaney warned that not passing a budget resolution this week would likely result in tax legislation being delayed until next year.
"There's still a chance it gets done this year but more likely it goes over into the beginning of next year" if a budget isn't approved this week, Mulvaney said during a Bloomberg TV interview Tuesday. "The longer we wait to get tax reform, the longer the benefits take to kick in."
Mulvaney added that he's been talking to his friend Senator Rand Paul -- a potential holdout -- and Paul is figuring out "a way to get to yes."
The Senate is expected to vote later this week on a budget resolution -- the vehicle needed to unlock the fast-track mechanism that GOP leaders say they want to use to pass a tax bill in the Senate with only 50 votes.
When asked whether the Senate would pass a budget, Mulvaney said: "Yeah, I think so, I think they're on schedule."
Before it's here, it's on the Bloomberg Terminal.
LEARN MORE