Kurdish-Led Force Declares Victory Over Islamic State in Raqqa
By , , and
Raqqa was a magnet for foreign fighters entering Syria

Extremists used city as headquarters of their 'caliphate'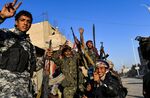 Kurdish-led forces in Syria declared a final victory over Islamic State in the extremist group's Raqqa headquarters, signaling the near-total collapse of a self-proclaimed "caliphate" that tyrannized residents, attracted foreign fighters and inspired terrorist attacks around the world.
"Military operations have ended in Raqqa but combing operations are under way to destroy sleeper cells, if there are any," Talal Sillo, a spokesman for the Syrian Democratic Forces, said in an audio message. "The situation is under control in Raqqa and soon there will be a formal announcement about Raqqa's liberation."
Backed by airstrikes and special forces from a U.S.-led coalition, the SDF first encircled Raqqa and then squeezed the extremists into smaller pockets of territory, battles that left thousands of civilians and fighters dead and much of the city in ruins. The fight for Raqqa's old city began in June and looked to have ended on Tuesday as it moved into a stadium where militants had staged a final stand.
Islamic State lost control of its most important bastion in neighboring Iraq -- Mosul -- three months ago, and is now reduced to a guerrilla force in its former heartlands. The militants have been driven out of all of Iraq's cities and are now concentrated on the Iraq-Syria border and in some towns in western Anbar province.

The focus in Syria will now switch to the southeast and Islamic State's final piece of significant territory in Deir Ezzor province, where Syrian government forces backed by Russian airstrikes and militias allied with Iran have made advances in recent weeks. Victory there would entrench further Russia's already dominant position in Syria, which has led to a shift in the balance of forces: Turkey and Saudi Arabia, once key backers of the rebels fighting President Bashar al-Assad, are now cooperating with the Kremlin.
'Vital Symbols'
The loss of Raqqa and Mosul "will certainly tarnish the group's aura of historic achievement for having created a modern caliphate as they call it. They are now losers in a sense," said Daniel Benjamin, who served as coordinator for counterterrorism at the U.S. State Department until 2012. "I don't think that should be underestimated. Symbols are vitally important," he said.
"However, it's by no means the end" of Islamic State, said Benjamin, who's now the director of the John Sloan Dickey Center for International Understanding at Dartmouth College. "The group will inevitably revert to more traditional terrorist activity."
Read More: A QuickTake on How Islamic State May Endure Even as It Loses
The U.S. and its allies have insisted that the Kurdish forces who liberated Raqqa won't have a role in governing the city. To the north, fellow NATO member Turkey considers the Kurdish fighters to be terrorists linked to separatists who have battled for a homeland in the country's southeast for three decades. Authorities in Ankara have vowed to prevent the Syrian Kurds from using their war-time gains to pursue an autonomous homeland similar to the one in northern Iraq.
The Syrian Democratic Forces are "on the verge of the liberation of Raqqa," with as few as 100 Islamic State fighters remaining, Army Colonel Ryan Dillon, a spokesman for the U.S.-led coalition, told reporters from Baghdad. Now, he said a separate force of about 1,600 local recruits trained by the coalition will take over security.
Trump's Boast
While the Pentagon cited three years of coalition efforts -- dating back to the Obama administration -- for the success in Raqqa, President Donald Trump credited the more aggressive rules of engagement he set down for the fight against Islamic State.
"I totally changed the military. I totally changed the attitudes of the military," Trump said in an interview with Washington radio station WMAL. Asked why Islamic State wasn't beaten back earlier, he said, "Because you didn't have Trump as your president."
Raqqa has been at the center of much of the tragedy to befall Syria since Assad in 2011 attempted to crush an Arab Spring uprising, triggering the country's civil war. Built alongside the Euphrates River in north-central Syria, the ancient city fell in March 2013 to the Syrian opposition, a force led by the secular Free Syrian Army but that also included substantial numbers of Islamic militants.
As the Free Syrian Army looked for new conquests and factions struggled for supremacy, the jihadists of Nusra Front and Abu Bakr al-Baghdadi's Islamic State began to consolidate their power in the city -- and then fight each other.
By early 2014, Islamic State was in charge and declared Raqqa the headquarters of its emirate. Six months later, Mosul and other key cities in Iraq had fallen and the world had awoken to the ambition and cruelty of a group which would soon eclipse al-Qaeda as the preeminent Islamist terrorist threat.
Seeking Legitimacy
On the streets of Raqqa, about 300 kilometers (185 miles) northeast of Damascus, Islamic State imposed its brutal rule: beheading locals and western hostages, unleashing a campaign of sexual violence, instructing children how to kill and plotting attacks against European cities in its campaign to advance the group's apocalyptic prophesies. Women could not leave home without a male guardian, shops had to close five times a day for prayer and people accused of theft had their hands cut off in public.
In sleekly produced recruitment videos, it promised sympathizers an extremist utopia with images of fighters strolling at sunset through golden fields or along the shimmering Euphrates. Photographs of bustling markets were meant to give a sense of normality to life in the caliphate and legitimacy to the state they were building.
Thousands of young men, and a few women, flocked to Raqqa from the U.S., Europe and Arab countries, including doctors, IT specialists and engineers, many drawn by Islamic State's initial portrayal of itself as a defender of fellow Sunnis against Assad's Alawite-dominated forces. Raqqa's misery deepened as Syrian forces responded with airstrikes and firing artillery into civilian areas, acts that Amnesty International described as war crimes.
'Finishing School'
Recruits earned an income. Syrian fighters got $400 a month, plus $50 for each child and $100 for each wife. Foreign fighters received an additional $400 a month.
"They live and work in a veritable 'international finishing school' for extremists," according to a United Nations report in May 2015. It said the caliphate at that time had attracted more than 25,000 overseas fighters from 100 different countries.
Authorities must now build a future for the traumatized city. Brett McGurk, U.S. special presidential envoy for the global coalition to counter Islamic State, said in Washington in July that governance would be led by a 120-member civilian council that has been based in Ayn Issa to the north of Raqqa.
It will be supported by the U.S. to "enable immediate stabilization" and welcome back exiles, he said. The council has committed to hold an election in Raqqa by May 2018 for a new governing body to ensure that the people of the city can choose their own leaders, ahead of a final solution to the Syrian war, he added.
— With assistance by Samuel Dodge, and Hayley Warren
Before it's here, it's on the Bloomberg Terminal.
LEARN MORE