Trump Has a Tell When an Aide Is About to Get Ousted
By
Nominee for drug czar Marino, 'a fine man,' withdraws himself

Price, Priebus, Bannon all called 'good' men before exits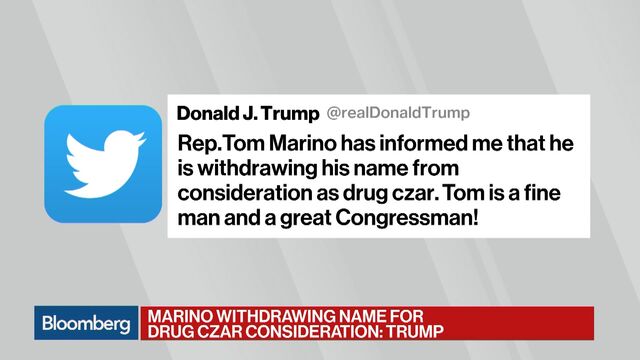 A good man. A fine man. A very good person. It's President Donald Trump's tell, and his favorite parting praise, when his administration's top officials are about to be ousted.

Representative Tom Marino, Trump's choice to be the nation's drug czar, is the latest to be commended just as he was shown the door.
"Rep. Tom Marino has informed me that he is withdrawing his name from consideration as drug czar,'' Trump said Tuesday on Twitter. "Tom is a fine man and a great Congressman!''
Trump has used the term "a good man" to describe: former Health and Human Services Secretary Tom Price, hours before he resigned; former chief of staff Reince Priebus, minutes after his replacement was announced; and former chief strategist Steve Bannon, just days before he left the White House.

Trump also labeled his first national security adviser, Michael Flynn, a "good person'' shortly after he was ousted from the White House for misleading Vice President Mike Pence about his conversations with the Russian ambassador.
Trump's applied the apparent kiss of death to other officials who ultimately have not been let go, despite reports of friction. Trump called National Security Adviser H.R. McMaster a "good man'' in August; McMaster remains on the job.
"General McMaster and I are working very well together,'' Trump said in an Aug. 4 statement after several negative news stories about McMaster appeared in conservative media outlets. "He is a good man and very pro-Israel.''

And then there's Secretary of State Rex Tillerson. In March, Trump called him "a great man." He was labeled "wonderful" in an Oct. 1 tweet in which Trump undercut Tillerson's attempt at a diplomatic resolution of the North Korea crisis.
Tillerson held a news conference Oct. 4 to insist that despite reportedly calling the president a "moron" he wouldn't be leaving his job. Stay tuned.
Before it's here, it's on the Bloomberg Terminal.
LEARN MORE