Goldman's Equity Investments Lift Profit as Trading Slumps
By
Gains from stock investments increase 51% to $1.39 billion

Bank's shares fall the most in six weeks on the results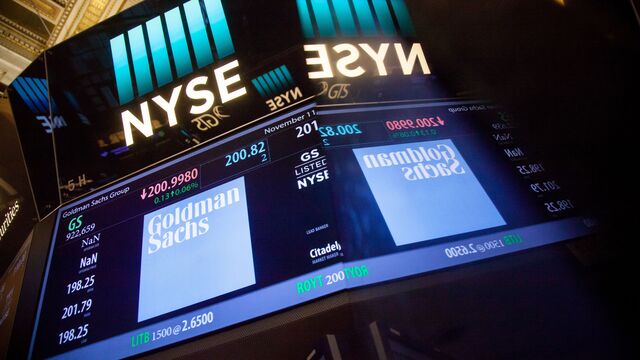 Rising stock markets have been kind to Goldman Sachs Group Inc., but investors aren't giving the firm much credit for that.
Gains from investing in other companies rose 51 percent in the third quarter to the highest in almost four years as share indexes touched records. While Goldman Sachs has argued that private equity-like investing is among its core skills, investors have historically discounted earnings driven by surprise gains in that unit. The bank's shares fell the most in six weeks.
Goldman Sachs is one of the few Wall Street firms still taking large stakes in other companies, continuing to deploy a merchant-banking model that dates back decades. While revenue from trading equities, fixed-income, currencies and commodities slipped from a year earlier, the firm's smaller unit that makes private-equity style investments in companies and debt -- known as investing and lending -- topped every analyst's estimate in a Bloomberg survey.
"It appears as if Goldman Sachs is morphing into more of a private-equity firm, rather than a trading house, despite the fact that this transformation appears to be more inadvertent than part of a deliberate strategy," Octavio Marenzi, chief executive officer of capital-markets management consultancy Opimas, said in an email.
The bank's shares dropped as much as 2.1 percent, the most since Sept. 5. The stock was down 1.4 percent to $238.93 at 10:16 a.m. in New York trading.
Goldman Sachs last month laid out a series of initiatives to boost revenue by $5 billion even if the trading environment doesn't improve. For now, it's leaning on gains from principal investments that have been a hallmark of CEO Lloyd Blankfein's tenure to keep its return on equity above most rivals. Annualized returns reached 10.9 percent for the third quarter.
Goldman Sachs created the investing and lending segment in 2011, saying at the time that it was an effort to give greater transparency to analysts and investors. Since then, the unit has acquired a reputation of being one of the hardest to model, making it difficult for analysts to accurately predict its results. As a result, investors are often reluctant to assign it the same weight as other business units.

The bank had to change its strategy with the 2015 implementation of the Volcker Rule, which limits how much money can be invested in private-equity type funds. The firm has moved slowly to exit those investments, asking for and receiving a series of exemptions that push compliance out to 2022. It also started making more direct investments.
See also: Gorman's brokerage play sends Morgan Stanley profit higher
The investing and lending unit's activities will take on greater importance in coming years as Goldman Sachs looks to loans as a key focus of growth. The $5 billion revenue plan assumes that more than 40 percent of the total will come from financing and other loans.
The segment was "far and away the biggest driver of the quarter's revenue upside," Credit Suisse Group AG's Susan Katzke wrote in a note to investors.
Here's a quick summary of key numbers from the results:
Net income rose 2 percent to $2.13 billion, or $5.02 a share, from $2.09 billion, or $4.88, a year earlier, the New York-based firm said Tuesday in a statement. The average estimate of 20 analysts surveyed by Bloomberg was for adjusted earnings of $4.25 a share.
Companywide revenue climbed 2 percent to $8.33 billion, compared with the $7.51 billion estimate compiled from 17 analysts. Equity investments brought in $1.39 billion, or 17 percent of the total.
Revenue from fixed-income, currencies and commodities trading declined 26 percent to $1.45 billion, the second-biggest drop among the five largest trading firms. Morgan Stanley earlier Tuesday posted a 21 percent decline to $1.17 billion.
Equity trading revenue fell 7 percent to $1.67 billion, compared with analysts' $1.7 billion estimate. Morgan Stanley, which wrested the No. 1 spot from Goldman in 2014, brought in $1.89 billion.
Investment-banking revenue climbed 17 percent to $1.80, helped by a 38 percent surge in advisory revenue to $911 million. That was more than $150 million above what analysts estimated.
— With assistance by Felice Maranz
Before it's here, it's on the Bloomberg Terminal.
LEARN MORE