pursuits
From Anime to M&A, How Netflix Plans to Spend $8 Billion
By
Streaming leader promises more films, deals, ugly sweaters

The company will release more than one new movie a week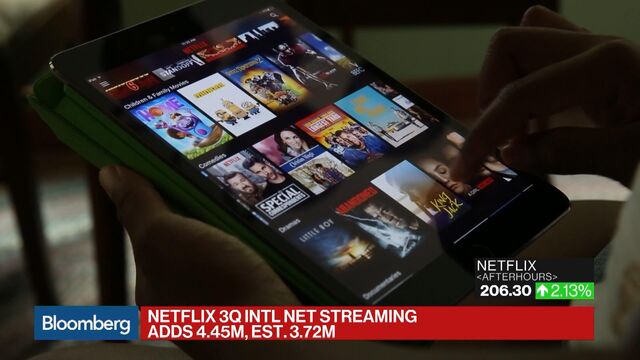 Array
While competitors race to catch up with Netflix Inc., the largest online TV service in the world is adhering to a simple strategy to maintain its lead: you have to spend money to make money.
Array
The streaming pioneer will deploy as much as $8 billion on programming next year, a third more than in 2017. The increase alone is almost what HBO spends annually. Netflix, based in Los Gatos, California, will also pony up more than $1 billion for marketing.
Array
The money will fund an ever-growing array of programming designed to attract even more customers. The company's long-term budget for movies and TV shows totals $17 billion.
Array
Critics say the spending is risky, and concerned investors sent shares down Tuesday even though the online TV service reported on Monday its best-ever third quarter for subscriber gains. The stock dropped as much as 2.4 percent to $197.77 in New York trading.
Array
Here's how Netflix will spend that $8 billion:
Array
80 Original Movies
Array
Chief Content Officer Ted Sarandos said Netflix will release more original movies next year than Hollywood's three largest movie studios (Disney, Warner Bros. and Universal Pictures) combined.
Array
Most of these films will be low-budget projects like those seen at film festivals or local art-house theaters, such as Noah Baumbach's "The Meyerowitz Stories" with Adam Sandler and Dustin Hoffman, or Joe Swanberg's "Win It All." Others will be lowbrow comedies.
Array
Yet Netflix is also starting to fund big-budget movies that would be right at home on the big screen next to "Star Wars" and Batman, like the Will Smith movie "Bright" due out in December, meaning the company is mounting a growing threat to theaters. By releasing more than one new movie a week online, Netflix is giving consumers reasons stay home.
Array
Anime and Scandinavian Thrillers
Array
Netflix has signed up more than 56 million customers outside the U.S., relying mostly on shows made in the U.S. Now the company is ramping up production in several languages in a bid to sign more users in Europe, Africa, Asia and the Middle East.
Array
Netflix released its first Italian and German series this year, and plans a substantial increase in the number of shows it makes for foreign viewers in 2018. That includes its first Danish series ("The Rain," a post-apocalyptic adventure), its first Swedish series ("Quicksand," a suspenseful crime drama) and a whole lot of anime. The company has 30 different projects based on the Japanese style of animation in different stages of development, Sarandos said on a call with investors.
Array
Deals, Deals, Deals
Array
Netflix bought comic book publisher Millarworld this summer, the first acquisition in the company's 20-year history. Consider it the first of many deals. Though Netflix prefers to build rather than buy, the company said it would seek more opportunities to acquire intellectual property.
Array
"Were looking at a lot of things," Sarandos said. "When there can be these kinds of efficiencies, that kind of creativity under one roof, we'll want to explore that." Netflix wants to claim hot book properties, top producers and new writers before rival media companies.
Array
One thing Netflix won't be buying? Weinstein Co., Chief Executive Officer Reed Hastings was quick to add.
Array

Array
Teen and Tween Dramas
Array
For all the money Netflix spends on its own shows, programming licensed from others still accounts for the majority of the company's annual spending. In one of its biggest deals to date, Netflix licensed the rights last year to "Supergirl," "The Flash" and "Riverdale" from the youth-oriented network CW.
Array
CW, owned by CBS Corp. and Warner Bros., is one of the few networks to deepen its ties to Netflix in recent years. Other large media companies are taking their shows off Netflix to bolster their own TV networks and support new streaming services.
Netflix says it isn't concerned. Original shows now account for more than 25 percent of Netflix's overall programming budget, and that figure will continue to grow.
Lots of Sweaters
If your ultimate ambition is to be a fully integrated Hollywood studio, merchandising has to play a role. At the end of Monday's call with investors, Hastings and Sarandos donned ugly Christmas sweaters tied to the hit show "Stranger Things." They're part of Netflix's new push into merchandising and go on sale at Target later this month.
(
Updates with shares trading in fourth paragraph.
)
Before it's here, it's on the Bloomberg Terminal.
LEARN MORE