Five Things You Need to Know to Start Your Day
Get caught up on what's moving markets in Asia.
By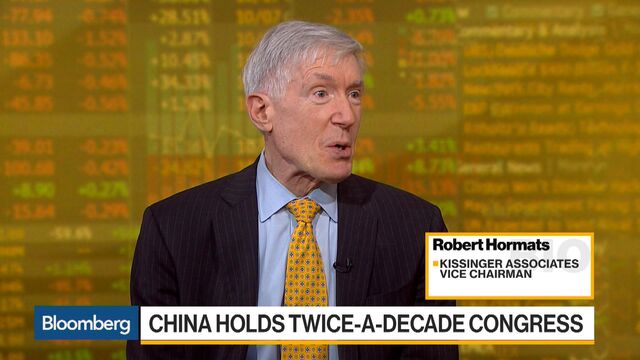 Want to receive this post in your inbox every morning? Sign up here.
Xi Jinping kicks off China's Communist Party congress, North Korea can't seem to stay out of the headlines, and we'll know the next Fed soon. Here are some of the things people in markets are talking about.
Xi Speaks
Asia's markets are waiting with baited breath for China President Xi Jinping to kick off the nation's most important political event on Wednesday, a twice-a-decade meeting of party leaders that may signal if Xi will appoint a successor to rule after 2022. An eerie calm was apparent as equity futures signaled a mixed and tentative start, as did currency NDFs. Xi will start the weeklong event this morning with what's known as the work report, seen as the government's most significant policy document. It will cover achievements since Xi took power in 2012, and lay out his vision for everything from party building to the economy to the military.
"Recipe for Disaster"
On Tuesday in Singapore, the top U.S. military commander in the Pacific issued a warning on the situation in North Korea, calling it a "recipe for disaster." Admiral Harry Harris went on to say that a diplomatic solution is still the priority, but the U.S. government will continue to be presented with military options for dealing with Kim Jong Un. "Many people have thought about military options being unimaginable regarding North Korea. Folks, I must imagine the unimagined," he said. Trump is making his first swing through the region from Nov. 3 to Nov. 14., and North Korea will of course be a key topic.
But Before He Goes...
It doesn't sound like we'll have to wait much longer to find out who the next chair of the Federal Reserve will be. People familiar with the matter are telling Bloomberg that the President plans to announce his pick before the trip to Asia next month. We also now know that he is working with a shortlist of five names to lead the central bank: former Fed Governor Kevin Warsh, Stanford University economist John Taylor, current Fed Governor Jerome Powell, National Economic Council Director Gary Cohn and the current chair, Janet Yellen. He's interviewed some of these candidates already and plans to talk to Yellen on Thursday.
Worrying About Not Being Worried
A growing number of hedge fund managers are betting on people worrying about the lack of worry in the markets. Brevan Howard Asset Management, 36 South Capital Advisors, One River Asset Management are just a few of the firms that are rolling out new funds designed to protect investors from rising market turbulence. This comes as other market participants, such as BlackRock CEO Larry Fink, are warning that this lack of volatility may not last. There are certainly a number of things going on in the world that could end up leading to a spike in volatility (see above), but for now, the markets are holding on to their sanguine state. 
Dow 23,000
Speaking of a lack of market volatility, today marked another new high for the Dow Jones Industrial Average, which traded above 23,000, though it failed to hold that level into the close. Get this, it's the sixth 1,000-point milestone reached in the past 12 months and the fifth since Donald Trump was elected president in November. Another crazy stat: despite political risks persisting from Spain to North Korea, the latest thousand-point climb took only 76 days. Some of the biggest movers in the index today were UnitedHealth Group Inc., Johnson & Johnson and Nike Inc. Shares of health insurers with a large Obamacare presence also surged on news that there might be a health deal in the works. 
What we've been reading
This is what caught our eye over the last 24 hours.
Before it's here, it's on the Bloomberg Terminal.
LEARN MORE