Ex-HSBC Currency Trader's Personal Defense Is Tested on Stand
By and
U.S. prosecutor grills Johnson about buying ahead of order

Case involves $3.5 billion currency order from Cairn Energy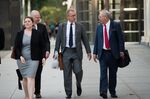 Former HSBC Holdings Plc trader Mark Johnson adamantly denied he "ramped" a $3.5 billion foreign-currency order against a client, insisting he "wasn't aware" that traders he supervised had already begun purchasing pounds at least 90 minutes before the 2011 transaction.
The bank's former global head of foreign exchange who's on trial for fraud faced a second day of fierce questioning by prosecutor Carol Sipperly. Johnson chose to take the stand in his own defense and spent at least 13 hours under questioning by his lawyer as he described the transaction for Cairn Energy Plc, which converted the proceeds of a unit's sale from dollars to pounds.

Sipperly confronted him about statements he made in phone calls and emails on the day of the trade that prosecutors say are evidence that he and his team artificially inflated the value of the pound and misled the the client about it. But Johnson held firm to his account.
"Isn't it true the traders were already front-running at this time, because they were buying low and selling high?" Sipperly asked.
"No," Johnson replied.
Prosecutors say Johnson and Stuart Scott, the bank's former head of currency trading in Europe, led the scheme. Scott was in court in London this week fighting extradition to the U.S. to face charges.
After Sipperly asked Johnson on Tuesday in federal court in Brooklyn, New York why he'd repeatedly used the word "ramp" in conversations with colleagues when recapping the Cairn trade, Johnson insisted the term had different meanings in different contexts, including prices or revenue. She also asked what he'd meant by the term "squeal" when referring to a price level the pound should stay below during the trade.
"I'm making clear that I do not think it would be fair for the price to go above" the particular level, Johnson said.
"You're not saying here,'We must make sure the fix is below,'" the level, Sipperly said, "or they're going to feel like they've been ripped off?"
"No," Johnson replied.
Central Banks
The prosecutor also questioned Johnson about why he never corrected statements colleagues made to Cairn on the day of the trade. Prosecutors said Johnson and Scott falsely attributed the rise in the pound to buying by a Russian central bank.
"I'm talking generally about central banks, the concept is a broad one," Johnson said. Later in the day, he said that in calls with Scott, the two men never say the rise in the pound was due to buying by a Russian central bank. 
Just six minutes after recommending to Cairn the currency transaction should occur at 3 p.m. on Dec. 7, 2011, the U.S. says Johnson sent an instant message to a London trader, saying "left my watch at the hotel, have to go and get it." While prosecutors say Johnson used the term "watch" as a code word to alert others to trade, Johnson has testified it was a term he used to prevent word of a big transaction from leaking out of the bank.
Sipperly asked Johnson why that message set off a flurry of aggressive buying of the pound by the London trader and at least six others at HSBC. Sipperly then asked Johnson why, during several calls he and Scott had with Cairn that day, they never informed the client they'd already accumulated a significant position of 220 million pounds by 1:47 p.m. that day, even before the client placed the order.
"It is my belief that Cairn were aware of the trading pattern and we didn't have to explain all of the trades, but they were aware there would be early trades," Johnson said.
Sipperly also asked Johnson whether he circulated his own version of a speech actor Jack Nicholson delivered in the movie "A Few Good Men," mocking salesmen at the expense of traders who did the bank's heavy lifting to earn profits.
"I suggest you pick up a prop book and stand post," she said, quoting an email he sent to a HSBC colleague.
"It was a self-reflective joke," Johnson said, insisting he wasn't attempting to ridicule the sales staff.
What One Trader's Trial Means for Currency Market: QuickTake Q&A
The case is U.S. v. Johnson, 16-cr-457, U.S. District Court, Eastern District of New York (Brooklyn).
Before it's here, it's on the Bloomberg Terminal.
LEARN MORE