Columbia University Posts 13.7% Annual Return
By
New York-based Ivy League endowment valued at $10 billion

Longtime Columbia CIO Holland took over fund in October 2016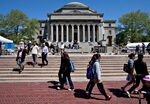 Columbia University's endowment posted a 13.7 percent investment return in the year through June, the first one with Chief Executive Officer Peter Holland leading the Ivy League fund.
The fund's value was about $10 billion as of June 30, Columbia said Tuesday. The endowment didn't disclose investment strategies used or performance by asset class. Columbia in a statement said the performance reflects a one-quarter lag in private equity and real asset valuations.
Holland took over as CEO in October 2016 after Narv Narvekar, who led the endowment from 2002 to 2016, left to head Harvard University's school fund. Holland had been chief investment officer at Columbia's endowment since 2003.
University endowments have bounced back this year after disappointing returns in the prior period. The average return for more than 450 endowments and foundations is 12.7 percent, according to data by Cambridge Associates.
Columbia is the last of the eight-member Ivy League to report returns. Dartmouth College leads with a 14.6 percent gain while Harvard is the lowest with an 8.1 percent return.
Columbia's five-year annualized return through June 30 was 9.7 percent; 7.3 percent for 10 years, according to the school.
Before it's here, it's on the Bloomberg Terminal.
LEARN MORE