China Development Bank Is Said to Support Oi's Recovery Plan
By
Bank may sign document as soon as Tuesday, people say

Accord would boost Oi in seeking approval for restructuring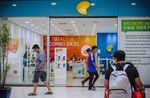 China Development Bank plans to vote in favor of Oi SA's restructuring proposal, becoming the first big creditor to throw its support behind the phone operator as it tries to climb out of bankruptcy protection, said two people close to the matter.
The Chinese bank may sign a document signaling support for the restructuring plan of debt-laden Oi as soon as Tuesday, said the people, asking not to be identified discussing private negotiations. The document is a formal commitment to vote in favor of Oi's proposal in a creditors' general meeting scheduled for Oct. 23.
The bank's thumbs-up is good news for Oi, whose proposal to emerge from a record $19 billion bankruptcy proceeding was met with harsh criticism from international bondholders last week. The Finnish and Belgian export credit agencies were among creditors who expressed concern, according to a letter obtained by Bloomberg.
Court Discussions
The Chinese bank has been discussing in court how to restructure $1.2 billion in financing it provided to Oi just six months before the operator filed for the largest judicial recovery in Latin America's history, with $19 billion in debt.
Oi declined to comment. China Development Bank didn't respond to a request for comment early Tuesday in Beijing.
Other debt holders remain at odds with Oi over its latest proposal, which gives creditors the option of buying at least 3.5 billion reais ($1.1 billion) in new shares. In a letter to management dated Oct. 15, Oi's two main groups of bondholders asked to begin talks "as soon as possible" and reiterated they won't approve the plan as it is now. Oi said it plans to meet with representatives of the groups this week.
Failure to win creditors' support could lead to a bankruptcy or an intervention by Brazil's government. If a restructuring plan doesn't win approval at the Oct. 23 meeting the company has set Nov. 27 as a back-up date for a second try.
Oi has a confidentiality agreement with state-controlled China Telecom Corp. to discuss potential deals. The Chinese phone carrier is teaming up with private equity firm TPG on a proposal to acquire Oi, Bloomberg reported last month. It's not clear if the development bank's agreement has any connection to the talks with China Telecom.
Oi rose 3.1 percent to 5.26 as of 11:17 a.m. in Sao Paulo, bringing the total gain in the past five trading sessions to about 48 percent.
— With assistance by Aibing Guo
Quotes from this Article
Before it's here, it's on the Bloomberg Terminal.
LEARN MORE