Carney Makes the Case for a Strong Brexit Transition Deal
By
Two-year deal must ensure continuity of cross-border services

BOE governor speaks in Treasury Committee hearing on Brexit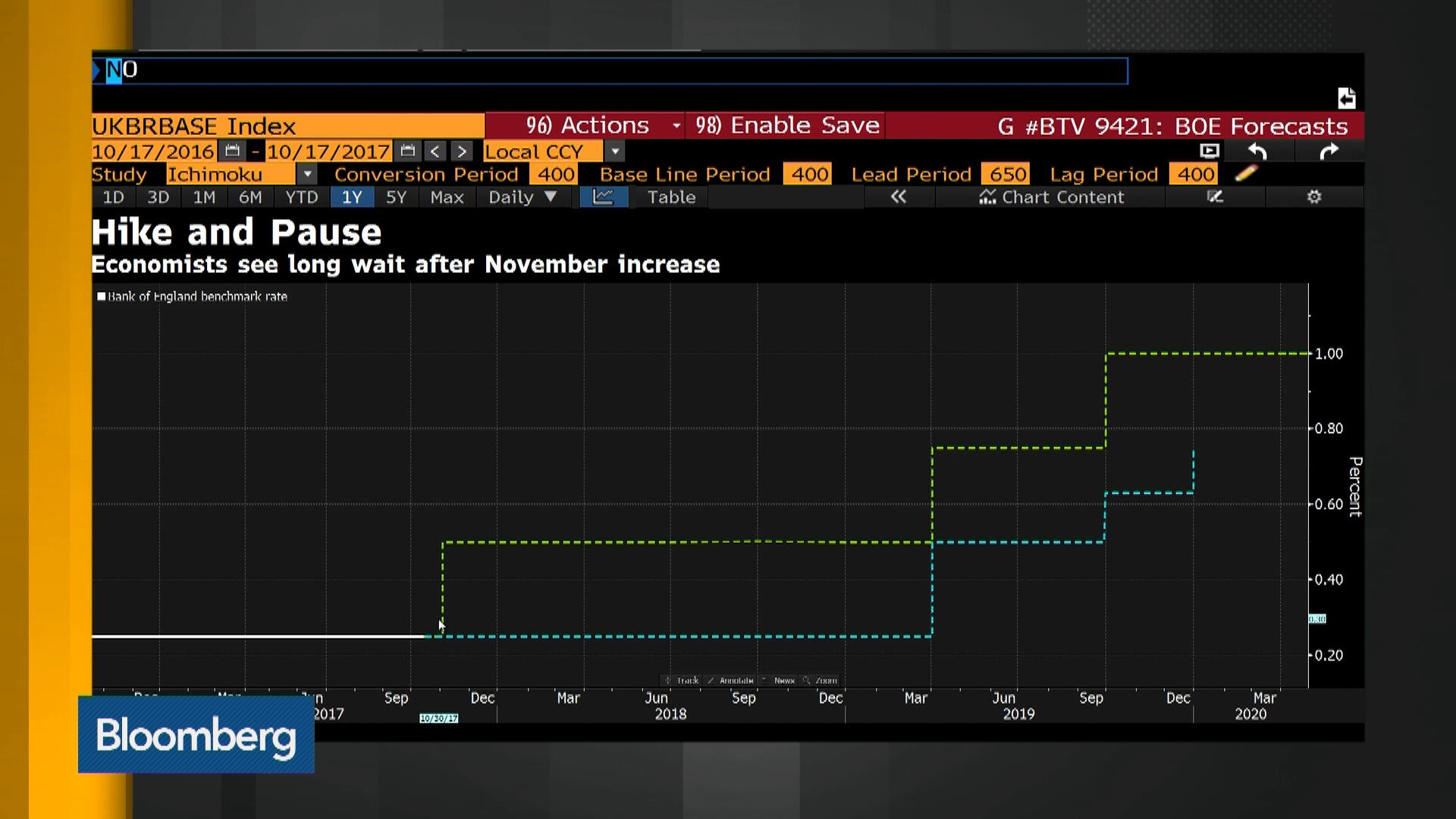 Bank of England Governor Mark Carney said the two-year Brexit transition agreement advocated by the U.K. government would be long enough to offer continuity for banks and investment firms provided it ensures no break in cross-border services.
Carney told lawmakers in London on Tuesday that on crucial issues such as derivative contracts, insurance policies and data transfer and protection, legislative action is needed in the U.K. and the European Union to make sure contracts can be honored after Britain withdraws from the bloc.
On derivatives, the BOE has warned that an agreement is needed as part of the Brexit process to protect the "long-term validity" of 20 trillion pounds ($26 trillion) of existing contracts. Carney also said that "tens of millions of people in Europe" have insurance that U.K.-based firms couldn't pay out without authorization.
Two years is "sufficient time, particularly if we get what I would call, if I'm allowed to use an adjective, a reasonable agreement on the end state," he said. "In other words, something that has a degree of supervisory cooperation, information sharing, which means that not all risk, capital, collateral, individuals have to move."
Carney has spent more than a year facing criticism from U.K. lawmakers for appearing to take sides in the Brexit debate and for being too gloomy in his forecasts. In a speech last month to celebrate 20 years of BOE independence, he told the audience including Prime Minister Theresa May that he would continue to express his views on the matter.
Seeking Solutions
The central-bank chief said Tuesday that the BOE has sought solutions to the continuity issues faced by the derivatives market, but has come to the conclusion there's nothing either the U.K. or EU can do unilaterally. Also, it wouldn't be possible to rewrite the contracts in time, he said.
Regarding "the continuity of those contracts post-Brexit," it's "pretty clear that those contracts don't continue to be valid," Carney said. "They're valid if nothing changes, then they just run off. If something changes -- and something always changes -- then they wouldn't be."
Carney's comments echoed those made last month by the BOE's Financial Policy Committee, which said that, after Brexit, it will be "complex and difficult" for financial firms themselves to tackle the risks to continued servicing of derivative contracts between counterparties in the U.K. and the remaining 27 EU countries. Tens of thousands of counterparties -- about a quarter of both U.K. and EU client uncleared derivative contracts -- could be affected, the BOE said.
"There are big, big economics that are determined by the history of where trades have been made, on top of all these other technical issues," Carney said in discussing the impact on derivatives. "All of those would require, to be done properly, a longer period of time" than the two years foreseen for a transition. "But if there's an agreement that certain activities can continue to flow cross-border, then it's a reasonable period of time."
Be Prepared
Carney also warned EU banks against assuming that they'll automatically get authorization for their U.K. branches to continue doing business without converting to subsidiaries, and said they should be prepared for that contingency.
The BOE "will tend to want" a firm engaged in significant retail activity to be a subsidiary with its own capital, he said. The BOE will also take into account the systemic importance of the firm, as well as the ability of the authorities to resolve it in an orderly manner if something goes wrong, he said. He added that the degree of information-sharing and supervisory cooperation will also inform the BOE's decision.
Before it's here, it's on the Bloomberg Terminal.
LEARN MORE