Photo Illustration: Tom Hall/Bloomberg
business
Brexit Bulletin: Breakdown Ahead?
By
May's dinner with Juncker and Barnier was "friendly"

U.K. team is said to see a breakdown in talks if EU doesn't compromise
Sign up to receive the Brexit Bulletin in your inbox, and follow @Brexit on Twitter.
Theresa May was never going to settle the Brexit bill over dinner, but her encounter with European Union chiefs last night yielded few results even by recent standards.
Both sides agreed that efforts "should accelerate over the months to come" after a "constructive and friendly" dinner. That's where the warm words ended. It may not be enough to shift the gloom on the U.K. side that Brexit talks could be heading for a breakdown if the European Union doesn't budge.

Bloomberg's Tim Ross reported yesterday that the entire Brexit process will be in danger of collapse without a clear sign at this week's EU summit that negotiations can move on to trade and transition arrangements by December. Senior British ministers are losing faith in the EU's willingness to strike a deal, according to a person familiar with the U.K. team's views.
Why are talks stalled? Britain won't detail how much it's ready to pay as it leaves the bloc until the EU starts discussing the future trade deal. Europe says it won't do that until there is "sufficient progress" on the exit bill, the rights of EU citizens and the Irish border. With less than 18 months to go, the risks of Britain crashing out of the bloc without a deal are growing. 
This is not a new argument. The U.K. agreed in June to discuss the divorce first and only then trade and transition, but it has been railing against that timetable ever since. Reference was made in last night's after-dinner memo to June's agreed "framework." That could be an indication the EU27 are reluctant to widen EU chief negotiator Michel Barnier's mandate, despite U.K. businesses screaming for transition talks.
Earlier on Monday the draft conclusions of the EU summit were circulated and the language on Brexit has been toughened up since last week, probably at the request of France and Germany. The latest draft adds extra hurdles for the U.K. to clear before negotiations can move on to trade, with EU leaders set to demand a guaranteed role for the European Court of Justice – a direct challenge to one of May's "red lines."
Brexit Latest
German Position | Some positive news from Berlin: Germany is working on proposals for the EU's future relations with the U.K. that include calls for a "comprehensive free-trade accord," according to a draft paper prepared by the Foreign Ministry. The four-page document, dated Oct. 11, proposes a broad partnership including foreign and security policy, criminal justice, agriculture and fisheries, energy and air transport. It's the most detailed German position yet on what future ties should look like.
Poorest Hit | Britain's poorest families would be the worst hit in the event of a no-deal Brexit, according to the Resolution Foundation. Lower-income households spend a greater proportion of their income on products like food, drink and clothing, which would see the greatest price increases under new trade tariffs, the think tank says.
Wheels Off | A so-called "hard border" between Northern Ireland and Irish Republic would lead to smuggling and criminality, Irish junior finance minister Michael D'Arcy said in a Bloomberg Television interview in New York. He says the "wheels have come off the wagon" in Brexit talks, "to some extent."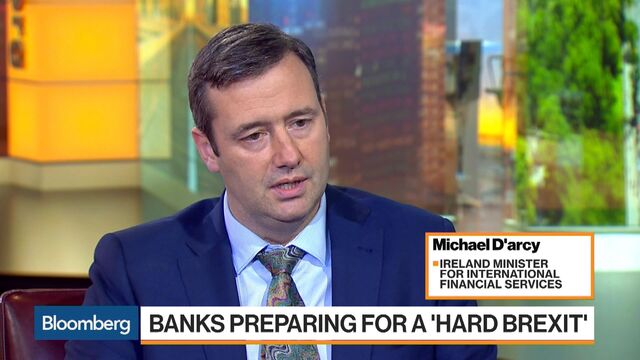 Irish Flexibility | The EU is prepared to show enormous flexibility toward Northern Ireland over Brexit, Prime Minister Leo Varadkar is quoted as saying by The Irish Times. Europe is prepared to create a unique situation for Northern Ireland if needed, he says.
King Weighs In | Former Bank of England chief Mervyn King has attacked the government's handling of talks, warning it may already be too late to put in place a credible plan for exit on its own terms.
Probiotic Plea | Yakult Honsha Co., which sells 190,000 bottles of its yogurt-like drink in the U.K. every day, urged the government to clarify its Brexit plans to avoid undermining consumer confidence. Nevertheless, Yakult intends to stay in the U.K. whatever happens during Brexit negotiations, company President Takashige Negishi told Bloomberg's Eric Pfanner.
Tipping Point | Sellers are beginning to buckle as London home price fall under the weight of Brexit. Buyers seeking mortgages for home purchases in some parts of London are being told by valuers that properties are worth less than they've offered. "We are approaching a tipping point," Lawrence Bowles, a residential research analyst at broker Savills Plc said.
On the Markets​ | The pound rose in early trading on Tuesday, having dipped yesterday on Brexit concerns. Investors are focused on the next rate hike, and Bank of England Governor Mark Carney speaks to Parliament's Treasury Committee at 11:15 a.m. in London.

And Finally...
Frankfurt is leading the pack luring finance jobs from London but plenty of the city's residents hate the idea, Bloomberg's Steven Arons and Alessandro Speciale report. 
"Brexit will be very bad for people with a normal income," says Micha Hintz, an owner of the 37-year-old Karl Marx bookshop, echoing local activists seeking to protect their cozy, comfortable city. "It may be good for the city's international competitiveness," Hintz, 61, says. "But what we need is affordable housing. And the population has no voice in this."
The bankers aren't terribly enthusiastic either, and the city is known as "Yawnfurt" in some circles. "The spreadsheet might say yes to Frankfurt, but the heart definitely doesn't," says John Purcell, an executive recruiter in London. 

For more on Brexit follow Bloomberg on Twitter, Facebook and Instagram
Before it's here, it's on the Bloomberg Terminal.
LEARN MORE