Boeing's Attack on Bombardier Backfires
By
U.S. planemaker's biggest rival takes control of the C Series

Deal follows trade spat that roiled U.S. ties to Canada, U.K.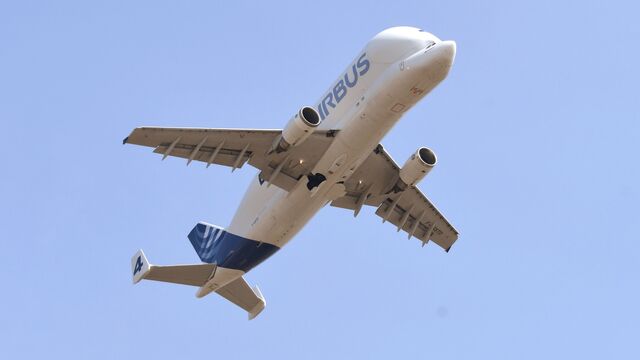 Boeing Co.'s diminutive Canadian rival just found itself one heck of a wingman.
The world's largest aerospace company tried to block Bombardier Inc.'s all-new C Series jet from the U.S. by complaining to the government about unfair competition. Now that move is backfiring as Boeing's primary foe, Airbus SE, takes control of the Canadian aircraft -- with plans to manufacture in Alabama.
The deal leaves Boeing's 737, the company's largest source of profit, to face a strengthened opponent in the market for single-aisle jetliners, where Airbus's A320 family already enjoys a sales lead. The European planemaker is riding to the rescue of a plane at the center of a trade dispute that soured U.S. relations with Canada and the U.K., where the aircraft's wings are made.
"For Boeing, its decision to wage commercial war on Bombardier has arguably had some unintended negative outcomes," Robert Stallard, an analyst at Vertical Research Partners, said in a report. "As well as damaging relations with the Canadian and U.K. governments and some major airline customers, it has now driven Bombardier into the arms of its arch competitor."
Heavy Tariffs
Boeing on Tuesday held firm to its stance against the C Series, saying the deal with Airbus would have "no impact or effect on the pending proceedings at all" in the trade dispute. Boeing won a preliminary victory against Bombardier last month when President Donald Trump's administration imposed import duties of 300 percent on the C Series.
Any duties "will have to be paid on any imported C Series airplane or part, or it will not be permitted into the country," Michael Luttig, Boeing's general counsel, said in a statement.
While some manufacturing work will stay in Canada, Airbus believes it will be able to get around the tariffs by opening a second assembly line at its factory in Alabama, said Patrick de Castelbajac, the company's strategy chief.
That's a risk to Boeing's case.
"Clearly, the trade dispute is not on as firm a footing as we once thought," Carter Copeland, an analyst with Melius Research, said in an interview.
Competitive Response
That leaves Boeing to consider whether a competitive response is needed, such as reevaluating its new-aircraft development plans or entering its own partnership. The company is facing increased pressure in the narrow-body market, where its 737 competes with the Airbus A320 family.
"Boeing is really in a box here," said Nicholas Heymann of William Blair & Co.
Boeing
Airbus
Bombardier C Series 100 / 300
Seats: 108-160
List price: $79.5m / $89.5m
737-700 / Max 7
Seats: 126-153
List price: $82.4m / $92.2m
A319 / A319neo
Seats: 124-160
List price: $90.5m / $99.5m
737-800 / Max 8
Seats: 162-178
List price: $98.1m / $112.4m
A320 / A320neo
Seats: 150-180
List price: $99m / $108.4m
737-900 / Max 9
Seats: 178-193
List price: $104.1m / $119.2m
A321 / A321neo
Seats: 185-240
List price: $116m / $127m
The Chicago-based company could explore options with Embraer SA, Heymann said. The Brazilian planemaker's E2 jets are of similar size to the C Series. Embraer and Boeing already partner on the KC-390 military transport aircraft.
The Airbus-Bombardier deal "validates the huge opportunities in the 100-150 seats market," Embraer said in a statement.
Boeing slid less than 1 percent to $258.62 at the close of trading in New York. The company is this year's biggest gainer on the Dow Jones Industrial Average, with an advance of 66 percent. Embraer tumbled 5.4 percent to 16.07 reais Tuesday, the biggest drop in almost seven months. Bombardier surged 15 percent to C$2.73, the biggest gain in more than 18 months.
Trade Spat
The U.S. tariffs on the C Series stoked tensions between the Trump administration and two key allies, which are also significant Boeing customers. Canadian Prime Minister Justin Trudeau warned his government wouldn't buy new military jets from the Chicago-based planemaker unless it dropped the case. His counterpart in the U.K., Theresa May, hinted that Boeing was risking future contracts.
The impact of the Airbus-Bombardier pact may ultimately be minor for Boeing, since its 737 has only limited overlap with the C Series at the smaller end of the market, said Douglas Harned, an analyst at Bernstein. Demand is growing for more mid-sized planes, he said. Boeing is studying whether to build a jet, sometimes nicknamed the 797, to fit between the biggest single-aisle planes and the smallest wide-bodies.
That aircraft would serve a "very different market" than the C Series, said Mike Sinnett, Boeing's product-development head.
Modern Design
While Sinnett suggested "there isn't a lot new" in the C Series, Airbus gains access to a plane featuring a high proportion of composite materials, a first in the narrow-body segment. The jet also has a more modern design than either the 737, which in its original form dates from the late 1960s, or Airbus's own A320, which first flew in 1987.
When announcing the deal, Airbus Chief Executive Officer Tom Enders said it's too early to speculate on whether the C Series will form the basis for the company's next short-haul offering. He acknowledged that the Toulouse, France-based company is likely to take cues in areas such as the Canadian model's cockpit design and advanced aeronautics.
Whatever the future development plans, Airbus's embrace means the C Series is here to stay as a narrow-body option for airlines.
"It definitely extends Airbus's advantage in the single-aisle front," Richard Aboulafia, an aerospace analyst at Teal group, said in an interview. "Customers were very favorably impressed" with the C Series "but they were worried about ending up with an orphan jet."
— With assistance by Christopher Jasper
Before it's here, it's on the Bloomberg Terminal.
LEARN MORE