As No-Deal Brexit Fears Grow, Here's Your Trading Cheat Sheet
By and
Pound vulnerable, gilts seen unattractive in no-deal scenario

BoE undoing post-Brexit easing could hurt utilities: Fidelity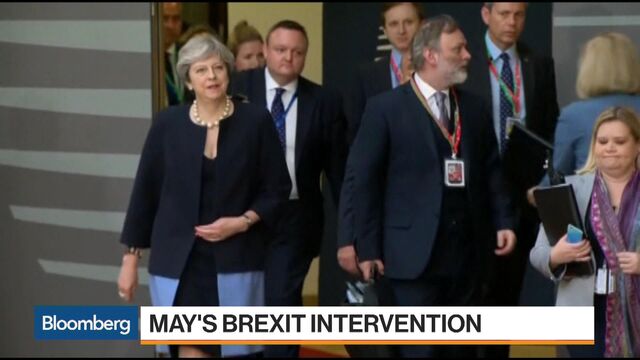 Should Theresa May hit another brick wall when she returns to Brussels later this week, a no-deal -- the most dangerous outcome for Brexit -- threatens to break a fragile calm in markets.
As the pound clings to post-election gains and the FTSE 100 holds its own in the global rally, here's how assets in the U.K. and euro-area may respond to what many traders would call the worst-case scenario.
Sterling
The lack of a deal could erase the recent boost cable has enjoyed courtesy of the Bank of England's hawkish tilt. Morgan Stanley, Mizuho Bank Ltd. and Nomura International Plc forecast the currency could reach as low as $1.10-$1.11 should talks collapse.
So far, pound traders are giving the U.K. prime minister the benefit of the doubt as she personally intervenes with Brussels. Rabobank's head of currency strategy Jane Foley assigns greater odds to the two sides making progress but sees a 30 percent probability of a no-deal.
"There is still a lot of hope for negotiations to reach a deal" she said in an interview. Her base case forecast is for the pound to stabilize around $1.32 over the next three months.

Gilts
Unlike in the past, bad news on Brexit won't necessarily be welcomed by the bond market. Though longer-dated yields are still steady, 10-year yields have spiked 40 basis points since early September on expectations the Bank of England will move to roll back its post-Brexit stimulus by November.
"The reaction we had after Brexit, where people running for safety bought bonds, is unlikely to happen this time," said Leigh Himsworth, who manages about 115 million pounds of U.K. equities at Fidelity International in London.

Investor concern about the outlook for the U.K. economy can be seen from the 'bear-flattener' shape of the country's yield curve. The difference in yields between shorter-term U.K. debt and bonds with a longer maturity are at the closest they have been all year.

U.K. stocks
For the stock market, the picture is more complicated. While exporters such as Royal Dutch Shell Plc benefit from a weaker pound in selling abroad, domestic companies do not. They also face the prospect of tighter monetary policy just as inflation crimps consumer demand. In a no-deal scenario, fund managers would favor the more international shares.
"For us, this would mean raising our overseas assets exposure, such as buying shares of Shell," said Himsworth at Fidelity. "You'd want to sell defensives like National Grid or United Utilities, as they'll be hit by higher bond yields."

European stocks
Perhaps the biggest beneficiary of Britain's political imbroglio has been Europe. Many fund managers including Yogi Dewan, who oversees about $1 billion as the chief executive officer of Hassium Asset Management in Gerrards Cross outside of London, are growing disenchanted with their home market and turning toward the continent.
"We are very underweight the U.K. going into next year because the domestic story is concerning, and we're overweight Europe instead," Dewan said. "A no-deal is perhaps better than a 'maybe' because at least we know what we're dealing with. All this uncertainty has slowed down investment in the U.K."

Credit
Diplomatic brinkmanship and deadlocked negotiations are no longer rattling investors in U.K. high-yield bonds if recent performance is anything to go by, according to Bloomberg's Simon Ballard. However, on a longer-term basis, uncertainty over what kind of U.K. economy will emerge after Brexit has weighed on sterling spreads which have lagged their euro counterparts since at least the beginning of 2016.

— With assistance by Cormac Mullen, Anooja Debnath, Charlotte Ryan, Blaise Robinson, Sejul Gokal, and Simon Ballard
Quotes from this Article
Before it's here, it's on the Bloomberg Terminal.
LEARN MORE